February 27,2020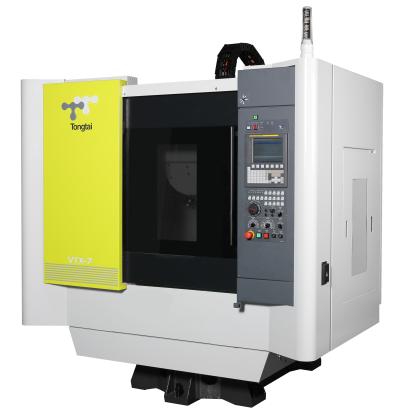 With rapid traverse speeds up to 2,362 ipm (60 m/min.) in all axes and acceleration of 1.2 g, the Tongtai VTX series of drilling and tapping centers are fast, affordable machines for high-precision, high-volume applications. The machines' compact 87" x 63" (2,210 mm x 1,600 mm) footprint conserves shop floor space, and a fixed column/moving table type design with Meehanite cast-iron frames and roller-type linear slideways provides rigidity and fast, precise movement.
Two types of high-speed ATC systems are available. The 21-tool turret-type ATC on VTX-5 and VTX-7 models offers tool change time of 1.4 seconds tool-to-tool and 1.9 seconds chip-to-chip. VTX-5A and 7A versions have a 20-tool arm-type ATC system that reduces tool change time to 0.8 seconds tool-to-tool and 1.3 seconds chip-to-chip.
The standard 7.5-hp, 12,000-rpm direct-drive spindle provides rigid tap speeds up to 6,000 rpm. An optional 24,000-rpm direct-drive spindle delivers high speeds for machining aluminum and magnesium parts and is an excellent choice for processing graphite. A BBT-30 (Big Plus dual contact) taper is standard for rigid milling. Coolant-through the spindle preparation also is standard, as is a spindle chiller.
A Mitsubishi M80A control is standard and is suitable for applications ranging from production to high-speed machining. It features a 10.4" (264 mm) touch screen with intuitive smartphone type operation. A dedicated CNC CPU provides outstanding processing speeds. State-of-the-art speed and accuracy results from an all-new high-response servo system with 1,000,000 pulse encoders. The Mitsubishi M80A control comes with a three-year parts and labor warranty. A FANUC OiM-F control with 8.4" (203 mm) LCD with a two-year warranty is also available.