March 28, 2019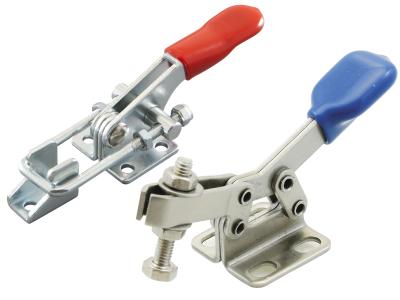 WDS Component Parts Ltd. has expanded its offering of toggle clamps, adding new sizes at both the small and large end of the range, plus filling in some intermediate gaps and introducing new design variants.
Toggle clamps use a plunger to produce a positive linear force and are typically used to hold workpieces for machining or to position and hold parts of an assembly. Their two main advantages are that they can be operated quickly and one-handed, so are less fiddly than doing up a nut and bolt, and they automatically apply a pre-determined amount of force.
The WDS range now incorporates many versions of toggle clamp including hook toggles, horizontal and vertical clamps, push-pull units, latch toggles, toggle presses, plier clamps, lockable clamps, cam action clamps and clamps with adjustable spindles. The new additions to the range include small vertical push-pull clamps with easy to grip T-handles and clamps with rubber tipped plungers that obviate the need to buy a separate cap.
There are also new stainless steel hygienic clamps added to the range, which will typically be used in hygienic or corrosive environments and for use in workholding during the manufacture of medical equipment. They are also expected to prove popular for use in a range of duties on-board freshwater leisure craft, ocean-going commercial ships and in waterside locations.
Additionally, to complement its toggle clamps range, WDS offers a number of accessories such as plunger end pads, covers, riser brackets and spindles. These can be used to customise the clamps to exactly meet the needs of the application in hand.
All WDS toggle clamps are sized for hand operation, with the clamping force that they exert when engaged ranging for 50kg to 340kg. Typical uses for the smaller units would include workholding for hand working or light machining in jewellery manufacture and other light operations; medium-sized units could be used for workholding in joinery and larger units for workholding during metalcutting operations.
Related Glossary Terms
computer-aided manufacturing ( CAM)


computer-aided manufacturing ( CAM)

Use of computers to control machining and manufacturing processes.

metalcutting ( material cutting)


metalcutting ( material cutting)

Any machining process used to part metal or other material or give a workpiece a new configuration. Conventionally applies to machining operations in which a cutting tool mechanically removes material in the form of chips; applies to any process in which metal or material is removed to create new shapes. See metalforming.