July 12, 2012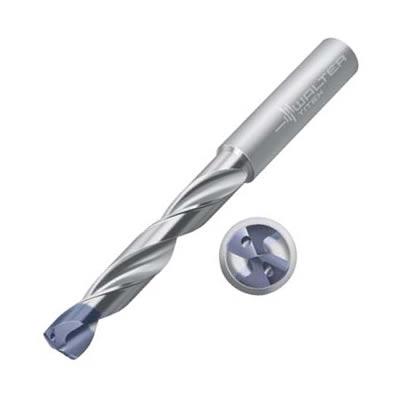 Walter USA LLC has introduced the Walter Titex X-treme Inox, a high performance solid carbide drill with internal coolant and special coating, designed to tackle stainless steel and other high-alloy ISO M materials.
The X-treme Inox advantage begins with a tip geometry that has been specially adapted to these materials, reducing the cutting forces and minimizing the otherwise frequent formation of burrs. A multilayer TiAlN tip coating maximizes tool life while minimizing adhesion. A high degree of process stability is ensured thanks to the superior stability of the X-treme Inox's main cutting edges, and the drill's new flute profile. The coordinated margins ensure minimal friction against the hole wall, while correct operating temperature is made possible through the internal coolant supply characteristic of the universal drills in the X-treme series.
These properties and features work together to produce excellent hole quality when drilling stainless steel, along with a high degree of process reliability and feed rates up to 50 percent higher than those obtained with other universal solid carbide drilling tools.
Walter supplies the Walter Titex X-treme Inox drill in diameter ranges 1⁄8 to ¾ inch and 3-20mm, and in standard lengths up to 5xD. Additional lengths of up to 12xD and stepped tools are optional. Typical applications for the Walter Titex X-treme Inox drill can be found in the aerospace, chemical, and medical device industries, as well as in the production of food processing equipment and in general metalworking.