October 01, 2011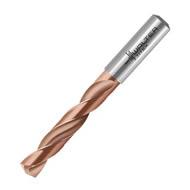 Walter USA LLC has expanded its Walter Titex X-treme line of versatile, high-performance solid carbide drills with the addition of a drill for shallow hole drilling, while maintaining high rigidity requirements. Suitable for use in a range of industries, this new drill, which augments the X-treme long drill introduced last year, is notable for both its high productivity and its hole surface finish and quality.
While the longer version drill possesses a length/diameter ratio of 5 x D, the new short version has an L/D ratio of 3 x D. Since rigidity increases as the cutting depth is reduced, this short version exhibits superior accuracy and process reliability for critical applications.
The X-treme short version is especially good at drilling angled entry/exit surfaces, convex workpiece surfaces, and cross holes. That's because a 140 degree point angle with optimized geometry and four- margins designs keep the drill in line and ensures the drilling location and processing reliability. The four margins are also beneficial in improving the surface quality of the drilled hole.
Productivity is boosted due to the drill's excellent stability; the user can reduce the number of operations such as milling a level surface or drilling a pilot hole. Additional features such as internal coolant supply and an aluminum chromium nitride-based XPL coating facilitates very high feed rates and maximum tool life. A further criterion for cost-effectiveness is the suitability of the short version drill, like all of the Walter Titex X-treme drills, for all ISO material groups. The new drill is ideal for use in an extremely wide range of industries, including general machine construction, vehicle manufacturing, the energy industry, and die and mold.
All Walter Titex X-treme drills are available from 1⁄8" to ¾" and 3 to 25mm. Cylindrical and whistle notch shank forms are available. The shank diameter tolerance is suitable for shrink fit chucks.