August 24, 2016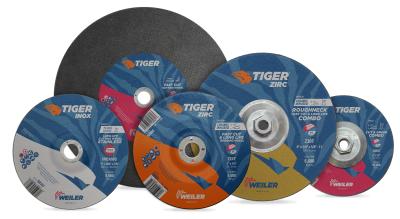 Weiler Abrasives Group has announced the expansion of its Tiger bonded abrasives offering. The expanded line of products, manufactured in the company's Slovenian facility, reportedly provides users with a wider breadth of solutions for their most demanding grinding and cutting needs. Each product is designed to provide welding and fabrication professionals the best solution to get their toughest jobs done right, and done fast.
The expanded bonded abrasives offering includes Weiler's new Roughneck combo wheels, ceramic-infused wheels for fast grinding and extended life. The combo wheels are designed to switch between cutting and grinding pipeline applications, lessening the need for additional abrasives, and are thicker than the company's current Roughneck Pipeliner wheels, which are for notching and facing.
Weiler has also introduced two new type-28 grinding wheels. Ideal for hard-to-reach areas, such as corners and fillets, the wheels feature a saucer-shape design that allows for aggressive grinding at lower angles — 0 to 45 degrees — and with less interference. The Tiger zirc grinding wheels leverage a self-sharpening Zirconia Alumina grain, along with a ceramic infusion to boost performance, while the Tiger grinding wheels feature premium Aluminum Oxide grains for an even, sharp and clean cut. A hard bond on the Tiger grinding wheels further extends product life and maximizes performance. Both types of wheels are available in 7- and 9-inch diameters.
In addition, Weiler offers 6- and 9-inch grinding and combo wheels across all Tiger tiers, providing users greater flexibility and efficiency when switching between cutting and grinding applications. It has also included a faster cutting 14-inch chop saw wheel in its expanded offering, which contains Aluminum Oxide grains for cleaner cuts, as well as a softer bond for faster cutting.
The 7-inch thin Tiger Inox cutting wheels (type 1 and type 27) round out the expanded offering. These wheels deliver accurate, clean cuts, and along with the entire Tiger Inox line, incorporate a contaminant-free bond that provides a worry-free solution for stainless steel applications.
Related Glossary Terms
aluminum oxide


aluminum oxide

Aluminum oxide, also known as corundum, is used in grinding wheels. The chemical formula is Al2O3. Aluminum oxide is the base for ceramics, which are used in cutting tools for high-speed machining with light chip removal. Aluminum oxide is widely used as coating material applied to carbide substrates by chemical vapor deposition. Coated carbide inserts with Al2O3 layers withstand high cutting speeds, as well as abrasive and crater wear.

grinding


grinding

Machining operation in which material is removed from the workpiece by a powered abrasive wheel, stone, belt, paste, sheet, compound, slurry, etc. Takes various forms: surface grinding (creates flat and/or squared surfaces); cylindrical grinding (for external cylindrical and tapered shapes, fillets, undercuts, etc.); centerless grinding; chamfering; thread and form grinding; tool and cutter grinding; offhand grinding; lapping and polishing (grinding with extremely fine grits to create ultrasmooth surfaces); honing; and disc grinding.

sawing machine ( saw)


sawing machine ( saw)

Machine designed to use a serrated-tooth blade to cut metal or other material. Comes in a wide variety of styles but takes one of four basic forms: hacksaw (a simple, rugged machine that uses a reciprocating motion to part metal or other material); cold or circular saw (powers a circular blade that cuts structural materials); bandsaw (runs an endless band; the two basic types are cutoff and contour band machines, which cut intricate contours and shapes); and abrasive cutoff saw (similar in appearance to the cold saw, but uses an abrasive disc that rotates at high speeds rather than a blade with serrated teeth).