August 29, 2023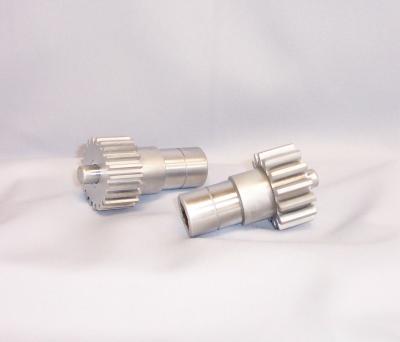 Iosso Metal Processes functional chrome plating offers longer life, corrosion resistance, lubricity, and increased surface hardness, with unsurpassed uniformity. This thin dense chrome has critically controlled tolerances therefore eliminating costly secondary operations.
We service a wide spectrum of industries which include the medical industry, automotive, aerospace, food industry, lock components, packaging equipment, hydraulics, and plastic injection molding to name a few.
We are committed to satisfying the requirements of our customer and providing an on-time quick delivery of a quality product.
The Iosso-FE process increases the hardness of the surface up to 72 R.C. and significantly increases the base metal life expectancy. The FE process provides smooth and consistent results, free from hydrogen faults, cracks, or blisters. You should also not expect any peeling, flaking, or spalling with our process. We provide one of the safest and most durable plating processes in the market, which is Rohs compliant and TCHP compliant.
IOSSO-FE Process Benefits:
Increases surface hardness up to 72 R.C.
Extends base metal life
Reduces corrosion
Increases life expectancy
Increases resistance to wear
Reduces friction
Increases lubricity
Economical
Increases production by reducing down-time
Rohs compliant
TCHP compliant
Characteristics of the IOSSO-FE Process:
No hydrogen faults, cracks or blisters
No peeling, flaking or spalling
Anti-galling, anti-soldering
Non-magnetic, static free
Heat resistant
Corrosion resistant
Reduces maintenance downtime for clean-up of mold base plates and components
Application for the IOSSO-FE Process Include but Are Not Limited to:
Component wear parts: shafts, gears, cams, rollers, pinions, valves, valve spools, pistons, bearings, seals.
Molds, dies, cavities, cores, ejector pins.
Blades, knives, cutters, scissors, slitters,
Roll forming dies, cutting tools.
IOSSO-FE Process Part Physical Capabilities:
Small parts from 1/4″ and up.
Large parts from 6 feet by 2 feet.
Parts up to 1000# or so, also depending upon size.
IOSSO-FE Surface Thickness and Coverage:
Controlled tolerances range from .000020 to .0005
Penetration of base metal up to 15 millionths of an inch
Hardness up to 72 R.C.
Uniform over complex shapes
No build-up on sharp edges or corners
Related Glossary Terms
corrosion resistance


corrosion resistance

Ability of an alloy or material to withstand rust and corrosion. These are properties fostered by nickel and chromium in alloys such as stainless steel.

hardness


hardness

Hardness is a measure of the resistance of a material to surface indentation or abrasion. There is no absolute scale for hardness. In order to express hardness quantitatively, each type of test has its own scale, which defines hardness. Indentation hardness obtained through static methods is measured by Brinell, Rockwell, Vickers and Knoop tests. Hardness without indentation is measured by a dynamic method, known as the Scleroscope test.

lubricity


lubricity

Measure of the relative efficiency with which a cutting fluid or lubricant reduces friction between surfaces.