January 01, 2014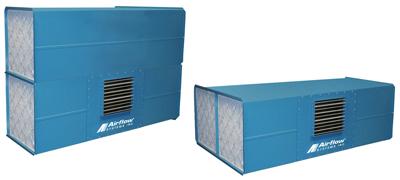 Airflow Systems Inc.'s TH-280 Series of industrial air filtration systems is designed to provide high-efficiency, ambient filtration in manufacturing and processing environments. The TH-280 Series includes the TH-280V and the TH-280H. The TH-280V has a vertical-cabinet design that provides a small footprint, and improved floor-to-ceiling visibility. The TH-280H has a horizontal-cabinet design for low-ceiling height applications, or for installations above equipment. The TH-280 Series ambient-collection design eliminates the need for ductwork that can be costly to install; ductwork can also increase maintenance costs and contaminant risk as settled dust and particulate accumulate on, and in, the ducting.
The TH-280 Series provides up to 6500 CFM of high-efficiency airflow; yet operates at only 74 dBA with a 5 HP motor/blower. The TH-280 Series features a formed-steel cabinet construction; eliminating seam ripples and gaps that are common with bolt-on panel designs and that often allow contaminants to escape and reduce operating efficiency. The TH-280 Series is designed with a two-stage filtration sequence that provides up to MERV 14 efficiency, and an O-frame filter mounting system that ensures proper filter fit; eliminating contaminate bypass of filters, and increasing filter collection performance.
The Airflow Systems TH-280 Series is constructed with 16-gauge formed-steel, and has a zinc-coated cabinet. The open-cabinet design of the TH-280 Series is an inherent safety feature; eliminating the need for explosion venting. The cabinet features a 2-part chemical- and oil-resistant finish. The TH-280 Series self-contained air filtration system effectively protects personnel and equipment, while ensuring long-term performance with a short-term payback.