January 16, 2017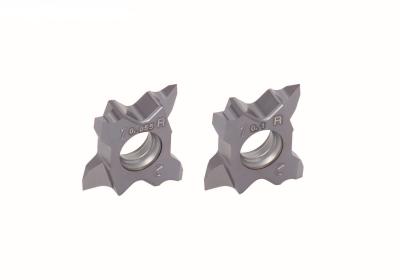 Tungaloy Corp. added threading inserts with sharp cutting edges to its TetraMini-Cut insert series, which allows undercutting and finishing of a flange wall. Complemented by the new PVD grade, SH725, TetraMini-Cut's new threading insert features sharp cutting edges, making it suitable for cutting fine pitch threads at a high cutting speed. The cutting edge is offset to one side of the insert, allowing threading all the way to the flange wall.
The threading inserts of the TetraMini-Cut series are ground finished making them an ideal choice when high accuracy and quality are required in a threading operation. The innovative insert pocket shelters unused cutting edges from chip damages, assuring the full usage of all four cutting edges. Tungaloy's unique clamping system secures insert rigidity and guarantees accurate repeatability.
Additional Products from Tungaloy America Inc.