May 24, 2016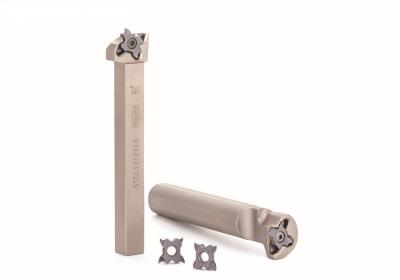 Tungaloy America Inc. offers TetraMini-Cut tools for grooving and threading of small parts. The TetraMini-Cut's ground insert, with four corners, is not only economical but also perfect for high-precision and high-quality machining of small parts, according to the company.
The insert pocket protects unused corners from chip damage during machining, thus assuring the usage of every corner of each insert. A unique clamping system provides high rigidity and excellent index repeatability. It is also suitable for undercutting the shaft along a flange wall. The insert screw that can be tightened either from the front or the back of the toolholder, which simplifies the operation when mounted in a Swiss-style lathe.
Grooving inserts with widths from 0.013" to 0.118" (0.33 to 3.00 mm) are available in SH725, and the new highly versatile PVD coating helps prevent loss of sharpness of the cutting edge. Threading inserts with pitches from 0.031" to 0.118" (0.8 to 3.0 mm) are available in AH725, our PVD grade for a wide variety of materials, such as steel, stainless steel, cast iron, and heat-resistant alloys.
Additional Products from Tungaloy America Inc.