November 01, 2011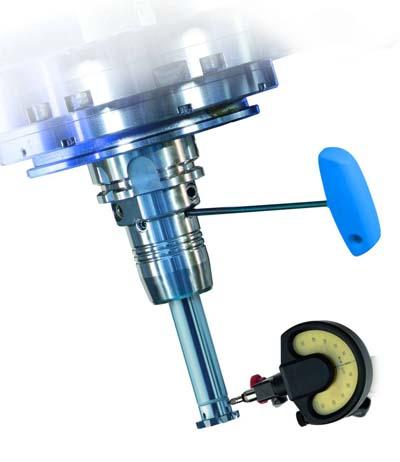 November 2011 —µm precision is always required for drilling, reaming, and line boring. SCHUNK now offers a hydraulic expansion toolholder with a run-out accuracy of 0.000mm which can be quickly adjusted. The TENDOzero is equipped with four lateral set-screws, which directly affect the tool shank, the angular position of the tool is corrected, and run-out is precisely adjusted. With this precision toolholder, even demanding applications with tight tolerances of shape, position, and surface quality are carried out quickly and reliably.
In contrast to conventional solutions which work with compensation adapters or rings, the set-screws of the TENDOzero are directly integrated into the precision mounting. With a Torx-plus key, the angular position of the clamped precision tool is corrected and the run-out is adjusted. Compensation for the spindle's run-out errors are done at the machine. The excellent vibration damping leads to an even cut and minimizes micro blow-outs at the cutting edge.
Besides having conventional cooling from the outside, TENDOzero also has an internal coolant supply, and in a slightly modified version, the minimum quantity lubrication (MQL). The clamping diameter can be reduced by up to 3mm by using intermediate sleeves. The run-out accuracy of 0.000mm is adjustable, as well.
The precision mounting of the TENDOzero is available for the following interfaces: HSK-A 63 and 100, SK 40 and 50, BT 40 and 50, CAPTO C4, C5, and C6.