March 01, 2015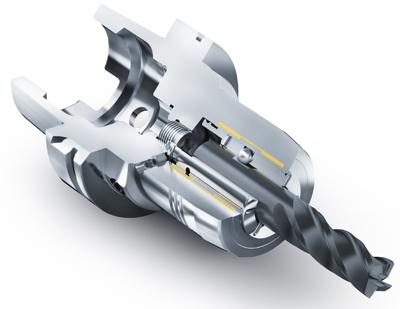 SCHUNK is broadening its program for high performance hydraulic expansion toolholders with the TENDO AVIATION. This toolholder specifically focuses on demanding applications, which usually occur in the aerospace industry.
TENDO AVIATION combines the strength of hydraulic expansion technology with that of Weldon toolholders. This includes high run-out accuracy, a balancing grade of G 2.5 at 25,000 min-1, perfect vibration damping, and a fast tool change using an Allen key. An integrated anti pull-out mechanism ensures an orientation of the tool and form-fit clamping when using the Weldon shank. The mechanism prevents tool pull out, and positional tolerances can be held. These features allow the full potential of both tool and machine to be used.
TENDO AVIATION allows maximum torque transmission at a consistently high precision and process reliability, according to the company. Compared with conventional Weldon and heat-shrink toolholders, where the run-out accuracy decreases over time, it offers tremendous advantages. The run-out accuracy and vibration damping of the TENDO hydraulic toolholders prevents the cutting edge from wear, extends the tool life, and ensures smooth surfaces. The uniform load profile ensures a longer service life of spindle and spindle bearing as well.
This toolholder is available for the interfaces HSK-A63, HSKA 100, CAT 40 and CAT 50.
Related Glossary Terms
shank


shank

Main body of a tool; the portion of a drill or similar end-held tool that fits into a collet, chuck or similar mounting device.

toolholder


toolholder

Secures a cutting tool during a machining operation. Basic types include block, cartridge, chuck, collet, fixed, modular, quick-change and rotating.