May 29, 2020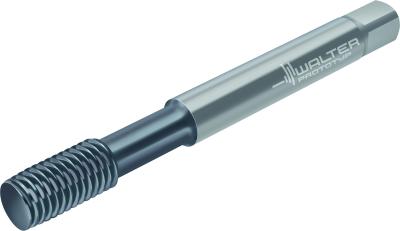 Walter has introduced the TC470 Supreme solid carbide thread former, an innovative approach to thread forming that combines a new geometry with more forming edges than comparable thread formers. The new thread former features a new coating and surface treatment for better tool life, higher productivity, and increased process reliability in large batch and high-volume production while achieving a lower cost per thread.
The exceptionally smooth yet hard coating improves surface quality, which, in turn, significantly reduces torque requirements. Intended for blind hole and through hole threads and thread depths up to 3.5 x DN in steel, it has also shown good results in machining cast iron and aluminum. The TC470 Supreme is offered in four variants: With or without lubrication grooves and/or internal coolant, as well as with radial or axial coolant outlet, optimized for long and short threads.
The TC470 thread former is available in dimension range of (metric) M3–M10 or (metric fine) M10 × 1–M16 × 1.5.
The Supreme designation indicates the highest level of technology and performance available. The Supreme lineup of products is one of three
The Perform tools are products that provide an economical solution with focused importance on price. The Advance tools are products which are efficiently balanced between price and performance.
Related Glossary Terms
coolant


coolant

Fluid that reduces temperature buildup at the tool/workpiece interface during machining. Normally takes the form of a liquid such as soluble or chemical mixtures (semisynthetic, synthetic) but can be pressurized air or other gas. Because of water's ability to absorb great quantities of heat, it is widely used as a coolant and vehicle for various cutting compounds, with the water-to-compound ratio varying with the machining task. See cutting fluid; semisynthetic cutting fluid; soluble-oil cutting fluid; synthetic cutting fluid.