September 14, 2021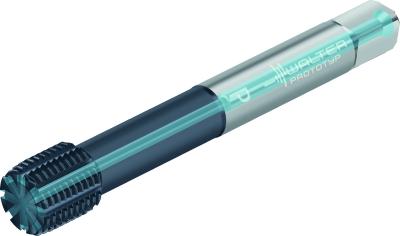 Walter has introduced the TC430 Supreme thread former for steel, offering maximum tool life in all formable steel materials, plus high surface quality on the thread, and a high level of process stability since no chips are formed and the tool cross section is stable.
The TC430 Supreme thread former, specialized for ISO P materials, is for blind-hole and through-hole threads up to 3.5 x DN. Multiple coolant configurations are offered to best optimize performance—axial or radial coolant, with or without lubrication grooves. This HSS-E-PM thread former with AlCrN or TiN coating is available for both metric and metric fine threads. Grade designations are WW60AD andWW60EL.
The tool has a high number of forming edges and its extremely smooth AlCrN coating minimizes weld formations in materials with high adhesion. It features tolerances of 6HX and 6GX, with dimensions of M2 to M20 metric, and metric fine of M8 x 1-M16 x 1.5. The Walter TC430 Supreme is finding ready acceptance in general metalworking as well as the automotive and energy industries.
The Walter lineup of products consists of three categories to its tools. Supreme indicates the highest level of technology and performance available. Perform tools are products that provide an economical solution with focused importance on price and Advance which indicates product efficiently balanced between price and performance.