August 24, 2021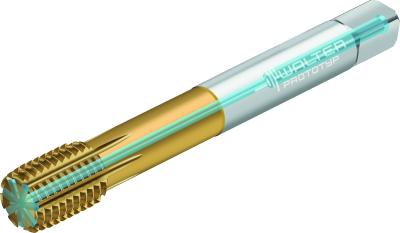 Walter has introduced the new TC420 Supreme thread for universal use. The HSS-E-PM thread former, with a high number of forming edges, produces high cutting speeds with up to 30% less torque, and good surface finish. The TC420 Supreme includes one configuration with chamfer form E, (M5–M16) for blind-hole threads up to 3.5 × DN, which uses an innovative combination of chamfer form E with axial internal coolant and without lubrication grooves. This new combination also improves the lubrication and, at the same time, reduces the torque by up to 30% – with a corresponding extension of tool life.
A new feature of the TC420 Supreme metric version, now up to M24 dimensions (metric fine M8x 1-M16 x 1.5), is radial internal coolant for blind-hole and through-hole threads, optimized for maximum performance in universal applications.
In addition to very high cutting data and long tool life, users of the TC420 Supreme benefit from good surfaces. These new thread formers also show higher break-out resistance under dynamic load compared with other threading techniques. Walter offers the new TC420 Supreme thread formers for medium to large batch sizes with and without lubrication grooves, as well as with axial or radial internal coolant, and without internal coolant. Tool coating options are either TiN coating (WW60AD grade) or TiCN (WW60BA). Typical areas of application include general metalworking as well as the automotive and energy industries, for ISO materials P, M, K, N and a secondary use in ISO S materials.
The Walter lineup of products consists of three categories to its tools. Supreme indicates the highest level of technology and performance available. Perform tools are products that provide an economical solution with focused importance on price and Advance which indicates product efficiently balanced between price and performance.