September 04, 2018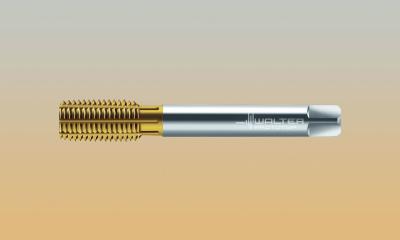 The new versatile high-performance TC420 Supreme thread former from Walter features a new substrate and a new polygon geometry that provides better forming behavior, less friction and longer tool life. In addition, its polished surface yields a better surface finish than is achieved with thread cutting.
This combination of features allows the new Walter TC420 Supreme thread former to reach higher tool life by producing up to 30 percent lower torque with higher cutting speeds. There are numerous variants in the TC420 Supreme product range, such as various coolant configurations, thread tolerance, chamfer forms and overall lengths.
The new thread former can be used universally since it is ideally suited for most ISO material groups. Applications include 3.5 x DN with grooves/internal cooling, and 3.0 x DN without grooves/ internal coolant.
Related Glossary Terms
coolant


coolant

Fluid that reduces temperature buildup at the tool/workpiece interface during machining. Normally takes the form of a liquid such as soluble or chemical mixtures (semisynthetic, synthetic) but can be pressurized air or other gas. Because of water's ability to absorb great quantities of heat, it is widely used as a coolant and vehicle for various cutting compounds, with the water-to-compound ratio varying with the machining task. See cutting fluid; semisynthetic cutting fluid; soluble-oil cutting fluid; synthetic cutting fluid.

tolerance


tolerance

Minimum and maximum amount a workpiece dimension is allowed to vary from a set standard and still be acceptable.