January 01, 2015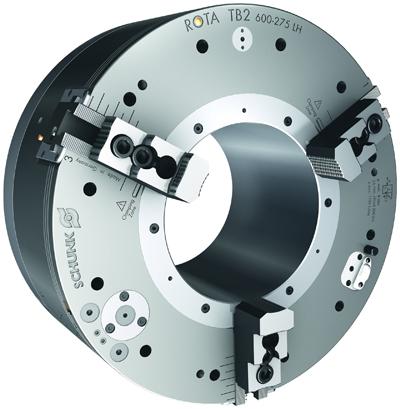 SCHUNK says it paid attention to the market trends and has released the new TB2 Chuck to support the highest demands every step of the way. With increased demands in pipe threading, pushing for more parts in less time, machine tools, today, have to support these modern machining requirements. In addition to faster production, the market calls for less maintenance, longer life, increased and more efficient cycles as well as safety.
The TB2 features faster actuation with its innovative exhaust system that allows for the quickest venting, ensuring decreased cycle times.
The life of the TB2 chuck is dramatically longer due to an exclusive coating that assures resistance to wear and virtually eliminates corrosion. In addition, the sealed base jaws eliminate contamination also increasing the life. To reduce maintenance, an advanced lubrication system allows for rapid and even lubrication of the entire chuck through an intelligent lubrication channel system.
As an important safety feature, the TB2 has several pressure and stroke monitoring features that allow monitoring via an external monitoring system as well as monitoring via a dynamic wireless system offering constant up-to-date feedback. Additionally, the TB2 has an integrated sound absorber system to reduce noise and hearing protection. The TB2 is available in sizes from 470mm to 1,000mm with bore diameters from 185mm to 560mm. This chuck is interchangeable with all chucks.
Related Glossary Terms
chuck


chuck

Workholding device that affixes to a mill, lathe or drill-press spindle. It holds a tool or workpiece by one end, allowing it to be rotated. May also be fitted to the machine table to hold a workpiece. Two or more adjustable jaws actually hold the tool or part. May be actuated manually, pneumatically, hydraulically or electrically. See collet.

threading


threading

Process of both external (e.g., thread milling) and internal (e.g., tapping, thread milling) cutting, turning and rolling of threads into particular material. Standardized specifications are available to determine the desired results of the threading process. Numerous thread-series designations are written for specific applications. Threading often is performed on a lathe. Specifications such as thread height are critical in determining the strength of the threads. The material used is taken into consideration in determining the expected results of any particular application for that threaded piece. In external threading, a calculated depth is required as well as a particular angle to the cut. To perform internal threading, the exact diameter to bore the hole is critical before threading. The threads are distinguished from one another by the amount of tolerance and/or allowance that is specified. See turning.