April 01, 2010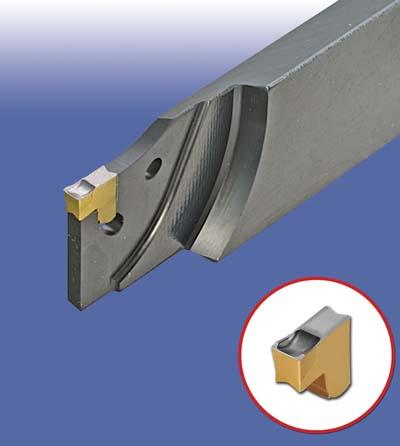 Iscar Metals Inc. offers a family of reinforced TANG-GRIP blades for the INDEX Model MS18C and TRAUB TNL and TNK mill/turn machines. The blades are suitable for parting and grooving between the main spindle and subspindle. Because of their reinforced construction, the blades can be applied in long-overhang applications. Only the part of the blade needed for penetration has a reduced width. The rest is thick, which improves rigidity and stiffness, according to the company.
Related Glossary Terms
grooving


grooving

Machining grooves and shallow channels. Example: grooving ball-bearing raceways. Typically performed by tools that are capable of light cuts at high feed rates. Imparts high-quality finish.

parting


parting

When used in lathe or screw-machine operations, this process separates a completed part from chuck-held or collet-fed stock by means of a very narrow, flat-end cutting, or parting, tool.

stiffness


stiffness

1. Ability of a material or part to resist elastic deflection. 2. The rate of stress with respect to strain; the greater the stress required to produce a given strain, the stiffer the material is said to be. See dynamic stiffness; static stiffness.
Additional Products from Iscar USA