March 01, 2011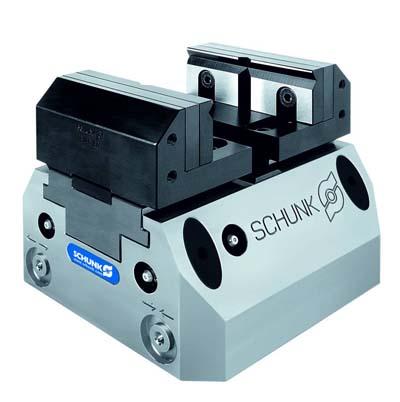 Clamping force blocks are a classic among stationary clamping systems. SCHUNK presents a major development in miniature self centering clamping technology. The TANDEM KSP+64 pneumatic self-centering vise achieves a repeat accuracy of up to 0.01mm.
The compact KSP 64 clamping force block with its one-piece, extremely rigid base body achieves gripping forces of up to 4500 N. The 64mm footprint allows for multiple units to be closely mounted, 16 vises in 1 sq foot. A host of jaws allow for great flexibility and customization. Each jaw can stroke 2mm in 0.06 seconds.
The TANDEM KSP self centering clamping force block from SCHUNK is also available in sizes 100mm, 160mm and 250mm.
Related Glossary Terms
centering


centering

1. Process of locating the center of a workpiece to be mounted on centers. 2. Process of mounting the workpiece concentric to the machine spindle. See centers.