January 17, 2018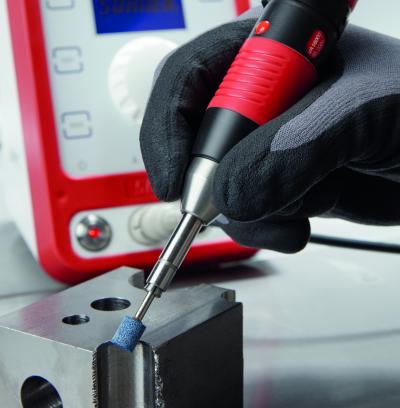 In many technical fields, ultrafine grinding is one of the tasks that gives the product its final polish – in the truest sense of the word. This applies equally to both precision and the visual appeal. SUHNER offers a grinding, milling and polishing system, SUNmic 60.
The central element is an intelligent control unit with touch panel that can accept a range of micro motors and tool hand pieces, depending on the application. The control part has modern features such as touch screen operation on a glass display, the option to save settings and a rotation speed regulator with tangible resistance. Key settings are easily legible on a large digital display.
The actual tools are driven by powerful micromotors whose 280 W place a lot of power in the user's hand. The compact, brushless BL/DC motors provide a wide speed range of 1,000 to 60,000 rpm and deliver a high torque. In practice, they can be compared with pneumatic technologies but do not need a compressed air supply, operate at lower energy levels and emit virtually zero noise, without exhaust air or oil mist emissions.
One further benefit is that they run virtually free of vibration. The high concentricity safeguards clean and reproducible results in all areas of operation. A special heavy-duty clamping system prevents the millers from shifting. Chuck diameters range from 2.35, 3.0 and 6.0 mm to 1/8 and 1/4 inch.
The new SUNmic 60 micro motor system can be connected to a 90 to 240 V source, and can therefore be used anywhere in the world. It offers a large number of combinations. The tools range from straight, angle and filing hand pieces to belt grinders. The control unit can be connected to two BL/DC motors and an AC motor. Advantage: The new control unit is compatible with available micromotors.
The new system can be used everywhere a precision finish is desired – for instance, grinding, milling, brushing and polishing in tool and mold making; in aircraft, engine and motor building; and in engine tuning. SUHNER offers a range of matching machines, tools and abrasives that have been tailored specifically to each of these applications.
The most important properties of SUNmic 60:
Robust control unit with intelligent features and uncluttered digital display
Touch screen operation on glass display
Rotation speed regulator with tangible resistance
Two sockets for hand pieces with the new BL/DC motors and one for conventional motors with carbon brushes
Separate, nonvolatile rotation speed memory for each connection
Wide, continuous range of rotation speeds of 1000–60,000 rpm
High torque
Low-vibration running and noiseless operation
High concentricity of 0.01 mm
Manual and automatic workpiece clamping under high forces
Overload protection, dust and spray water protection
Option for connecting a pedal