August 12, 2019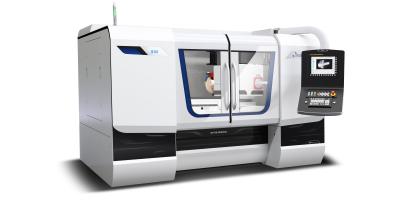 To ensure manufacturers can obtain the most productive machine for their particular part-production applications, United Grinding offers a full 360-degree range of Studer internal cylindrical grinding machines. This extensive portfolio of machines includes several universal-type models, as well as those designed for high production and for radii grinding operations.
In the universal range are the Studer S121, S131, S141 (pictured) and S151 models for workpieces up to 1,300 mm long and weighing as much as 250 kg. The cost-effective universal S121 is well-suited for internal, surface and external grinding of chuck components, while the S131, S141 and S151 handle all other conceivable internal cylindrical grinding applications. The machines deliver the highest precision and efficiency, especially for flange parts, spindle shafts, spindle housings, rotor shafts and bushings.
Ideal for chuck applications involving one component up to small-batch production, the Studer S110 is a flexible and compact internal cylindrical grinding machine designed for shops with limited floor space. For small to large-scale production, the Studer S122 specializes in small-bore grinding and has a swing diameter of 220 mm. Both machines can have up to three grinding spindles in a parallel arrangement that allows for external and internal grinding in a single clamping.
Three Studer models, the S121, S131 and S141, specialize in high-precision internal cylindrical grinding of radii, spheres, balls, cones and diameters. This range of machines accommodates maximum swing diameters up to 400 mm and workpiece weights up to 100 kg. Applications include the manufacture of die plates from carbide and ceramic, as well as the production of hydraulic components such as axial pump pistons, guide plates and housings from hardened steel, cast iron and copper. These machines are also well-suited for workpieces made from industrial ceramic, sapphire and carbide materials frequently used in the manufacture of human surgical implants. StuderSIM software supports the automatic direct drive B-axes of the Studer S121, S131 and S141, which allows these machines to interpolate for high-precision radii grinding.
The StuderSIM software has been specially developed for the internal grinding of radii. The operating system enables programming of all basic cycles for grinding, dressing and process-supporting measurement. This type of programming guarantees high flexibility together with maximum user-friendliness. After programming, the process can be simulated and optimized to ensure reliability, as well as shorten programming times and boost cost effectiveness.
For simplifying other complex internal cylindrical grinding operations, StuderWIN software allows for the full integration of in-process gauging and sensor technology for process monitoring, including contact detection and automatic balancing systems within the operator interface for standardized programming across different systems. StuderWIN is further supplemented with StuderPictogramming grinding software, which gives operators the ability to string individual grinding cycles together into ISO code generated by the control unit. The machine's functionality is enhanced by the software option for thread and form grinding.