December 13, 2012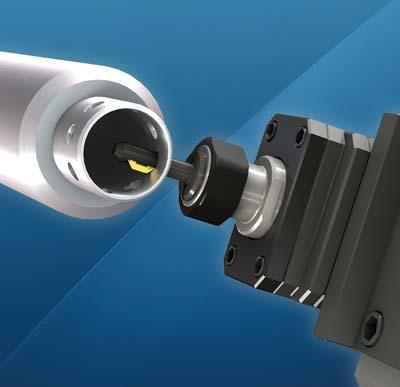 E-Z Burr Tool Co.'s Stubby series tools deburr the front and back of holes in a single pass and are available in HSS and carbide versions. The HSS tools are for hole diameters from 0.093" (2.38mm) through 0.236" (6mm). The carbide tools are for diameters from 0.125" (3.18mm) through 0.236" (6mm).
The overall length of the tools is 2.82" (71.6mm). Only 1.25" of the tool extends out of the collet. This prevents interference with the workpiece when space is limited, such as in a Swiss-style machine.
Related Glossary Terms
burr


burr

Stringy portions of material formed on workpiece edges during machining. Often sharp. Can be removed with hand files, abrasive wheels or belts, wire wheels, abrasive-fiber brushes, waterjet equipment or other methods.

collet


collet

Flexible-sided device that secures a tool or workpiece. Similar in function to a chuck, but can accommodate only a narrow size range. Typically provides greater gripping force and precision than a chuck. See chuck.

high-speed steels ( HSS)


high-speed steels ( HSS)

Available in two major types: tungsten high-speed steels (designated by letter T having tungsten as the principal alloying element) and molybdenum high-speed steels (designated by letter M having molybdenum as the principal alloying element). The type T high-speed steels containing cobalt have higher wear resistance and greater red (hot) hardness, withstanding cutting temperature up to 1,100º F (590º C). The type T steels are used to fabricate metalcutting tools (milling cutters, drills, reamers and taps), woodworking tools, various types of punches and dies, ball and roller bearings. The type M steels are used for cutting tools and various types of dies.