April 01, 2015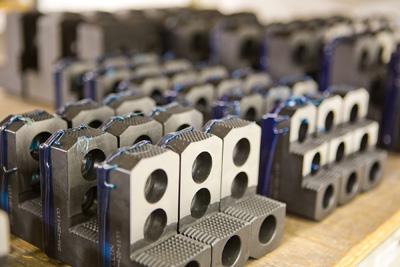 Dillon manufactures a full line of standard and custom stepped hard jaws with a diamond serration pattern for greater gripping of the workpiece. Typically used for first operation work, these jaws feature a gripping surface that accurately contacts most of the workpiece length and diameter for maximum drive. Diamond-shaped serrations increase the holding power, especially for rough, irregular and out-of-round components, reducing part slippage and pushback.
All standard (catalog) hard jaws are produced using 8620 steel to provide a tougher core, then carbonized and hardened to 52-55 HRC for greater durability and corrosion resistance. Dillon special top jaws are ideal for rough cast, forged, irregularly shaped, thin walled or extra-long work pieces which require special attention and handling.
Custom top jaws, manufactured to customer specification, center the workpiece and grip it equally. Extra wide jaws are available for a wider gripping surface. Dillon engineers work with customers to supply jaws that meet particular design and production requirements. Approval prints are supplied for each custom jaw order, and certification of materials and process, and heat treating are available upon request.
All Dillon hard stepped jaws are available in various mounting configurations, including serrated, T&G, Acme and square serrated key types to fit all brands of chucks. With multiple radii for inside and outside clamping, they are reportedly ideal for any size run.
Dillon also produces rough and semifinished jaws for machinists. Various processes help reduce the amount of machining required by parts makers. This, combined with the industries-best turnaround times, save time and money by reducing downtime.
Related Glossary Terms
corrosion resistance


corrosion resistance

Ability of an alloy or material to withstand rust and corrosion. These are properties fostered by nickel and chromium in alloys such as stainless steel.