October 08, 2022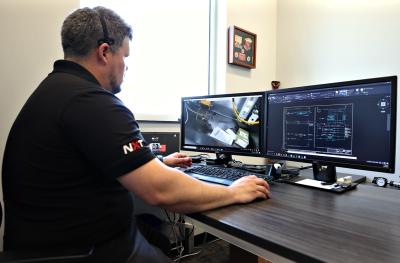 Star Cutter has announced Star AR Support Solutions, its new Augmented Reality capability that enables the company to remotely assist its customers, via AR glasses and a wireless connection, with application support, training, maintenance and troubleshooting on the Star Cutter NXT and UTG grinding machines. This remote AR capability helps to reduce potential downtime, expediting service on the machines as well as bridging the skills gap faced by many companies today. Additionally, it can help reduce the cost-of-service visits.
The Star AR solution is designed for ease of use. Customers may either rent AR glasses from Star Cutter or purchase their own set. When an incident occurs, an AR session is initiated through a service request and the connection made via wireless technologies. Connecting via a PC, the Star Cutter technician is able to see exactly what the operator is seeing on the machine, enabling remote training, immediate insight on machine tool issues, execution of simple maintenance tasks and assistance with applications setup.
Related Glossary Terms
grinding


grinding

Machining operation in which material is removed from the workpiece by a powered abrasive wheel, stone, belt, paste, sheet, compound, slurry, etc. Takes various forms: surface grinding (creates flat and/or squared surfaces); cylindrical grinding (for external cylindrical and tapered shapes, fillets, undercuts, etc.); centerless grinding; chamfering; thread and form grinding; tool and cutter grinding; offhand grinding; lapping and polishing (grinding with extremely fine grits to create ultrasmooth surfaces); honing; and disc grinding.