February 01, 2011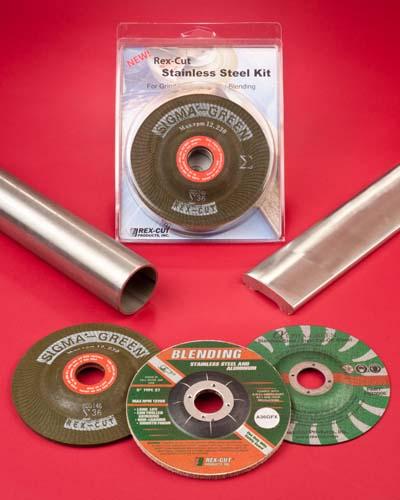 A kit for metal fabricating shops that includes three types of specialty abrasive wheels for grinding, blending and cutting stainless steel is available from Rex-Cut Products Inc.
Stainless Steel Kit includes a Type 27 Sigma Green grinding wheel for fast stock removal on welds, a cotton-fiber blending and finishing wheel that leaves a 32 RMS or better finish, and four thin-profile Alpha Green cut-off wheels which are only 0.045" thick and cut faster and cooler than conventional wheels because of their thin profile, claims the firm.
Available in 4-½" and 5" dia. versions, Rex-Cut Stainless Steel Kits are packaged in handy plastic clamshells for storage. Suitable for a wide range of stainless steel applications involving tube, pipe and bar stock, these kits also provide an easy trial opportunity for fabricators.
The Rex-Cut Stainless Steel 4-½" Kit sells for $22.86 (list) and the 5" kit is $25.11 (list).
Related Glossary Terms
abrasive


abrasive

Substance used for grinding, honing, lapping, superfinishing and polishing. Examples include garnet, emery, corundum, silicon carbide, cubic boron nitride and diamond in various grit sizes.

grinding


grinding

Machining operation in which material is removed from the workpiece by a powered abrasive wheel, stone, belt, paste, sheet, compound, slurry, etc. Takes various forms: surface grinding (creates flat and/or squared surfaces); cylindrical grinding (for external cylindrical and tapered shapes, fillets, undercuts, etc.); centerless grinding; chamfering; thread and form grinding; tool and cutter grinding; offhand grinding; lapping and polishing (grinding with extremely fine grits to create ultrasmooth surfaces); honing; and disc grinding.

grinding wheel


grinding wheel

Wheel formed from abrasive material mixed in a suitable matrix. Takes a variety of shapes but falls into two basic categories: one that cuts on its periphery, as in reciprocating grinding, and one that cuts on its side or face, as in tool and cutter grinding.