September 18, 2017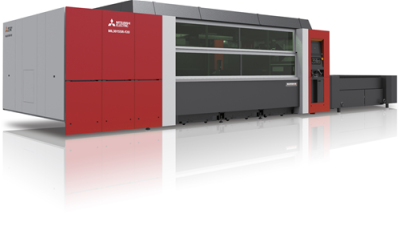 MC Machinery's fiber laser offering has expanded to include another option in laser-cutting technology. The new SR-F series from Mitsubishi features a 3m by 1.5m footprint with many of the features and options that are popular in its eX-F laser.
The SR-F laser is available in 2kw and 3k. This entry level machine offers the superior advantages of a Mitsubishi Laser in an economical package. A 2D fiber laser processing system comes standard with a fiber laser resonator, a processing head and a safety cover. It also includes the sophisticated Mitsubishi 700 series control with 64-bit NC and a 15-inch touch screen. Other standard features of the SR-F include:
Motion Cut - features the beam on/off time and axial movement simultaneously to eliminate the need for the axes to stop.
Eco Mode - reduces cost during standby by up to 70 percent.
Power Control System - provides power stability of ±1 percent.
Automatic Focusing - allows for easy and consistent focusing
Magnetic Damage Reduction Function - protects the head and eliminates the need f or nozzle centering in the event of a crash.
MC Remote 360 - provides real-time data to help increase productivity, improve efficiency, and reduce down time
Fiber laser technology dopes the optical fiber of the active gain medium. Since the light is already in a fiber, this allows a flexible path for delivering to a movable focusing element, such as the processing head. The technology eliminates bend mirrors and effectively eliminates the need for beam adjustment and alignment, improving consistency. This is important for production jobs including laser cutting, welding and fold forming.
Related Glossary Terms
centering


centering

1. Process of locating the center of a workpiece to be mounted on centers. 2. Process of mounting the workpiece concentric to the machine spindle. See centers.

numerical control ( NC)


numerical control ( NC)

Any controlled equipment that allows an operator to program its movement by entering a series of coded numbers and symbols. See CNC, computer numerical control; DNC, direct numerical control.