December 11, 2019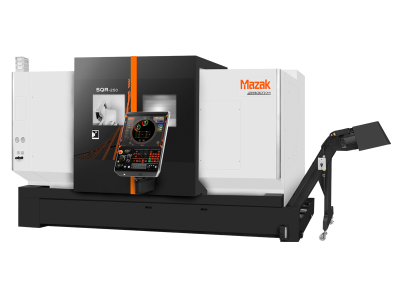 Mazak Corp. offers the SQR-250 turning center for the fast, accurate production of long shaft or chucked workpieces. The machine features a powerful single spindle with two 45-degree opposed-wedge style turrets that cut simultaneously to slash cycle times and provide balanced cutting.

The upper and lower turrets efficiently perform OD and ID operations or OD and drilling. The 12-position upper turret and eight-position lower turret combine for 20 total tool stations. Toolholders can be quickly mounted or removed from the turret by just turning a single bolt, and tools are changed via high-speed turret clamping/unclamping and non-lift indexing.

The spindle on the SQR-250 accommodates a 10" chuck and incorporates integral spindle technology to minimize vibration during high speed operation for superior part surface finishes. A 30-hp motor delivers a maximum speed of 4,000 rpm. With two bed lengths available, the machine handles parts up to 40" in length and 14" in diameter.
The SQR-250's Mazatrol SmoothG CNC with innovative programming, performance and monitoring functions, as well as the ability to use both EIA/ISO and conversational programming, bring optimal speed and accuracy to complex part production.
Advanced hardware – including a pivoting CNC panel and intuitive, 19" multi-touch LCD control screen – allows for complete ease of use, while a SDHC memory card stores up to 32GB of program data.
The SQR-250 also features Thermal Shield, an automatic compensation for room temperature changes that enhances machining accuracy. Room temperature and compensation data are displayed on the SmoothG CNC screen, allowing machine operators to easily make adjustments when needed.
To further enhance productivity, the SQR-250 can be paired with a gantry loader, bar feeder and other automation equipment for continuous production.