December 01,2010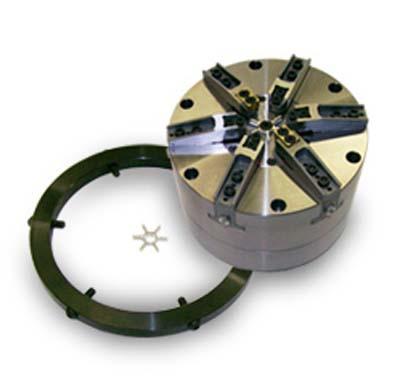 Northfield Precision Instrument Corp., a designer and manufacturer of precision workholding chucks, introduces their special 6" diameter 6-jaw chuck with ½" of jaw stroke on diameter and a ½" counterbore in the center. It has sub-jaws, inserts and a special air ejector that is spring return. This chuck was designed for Tiffany Co., the jewelry store. It is used to make Gold and Platinum rings that are bar fed from the main spindle and finished in the sub-spindle on this Northfield chuck. It is rated for 4,000 rpm with low profile jaws.
Related Glossary Terms
chuck


chuck

Workholding device that affixes to a mill, lathe or drill-press spindle. It holds a tool or workpiece by one end, allowing it to be rotated. May also be fitted to the machine table to hold a workpiece. Two or more adjustable jaws actually hold the tool or part. May be actuated manually, pneumatically, hydraulically or electrically. See collet.

counterbore


counterbore

Tool, guided by a pilot, that expands a hole to a certain depth.