May 13,2016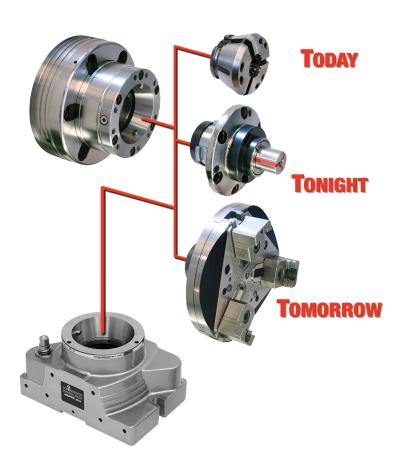 The HAINBUCH SPANNTOP high-precision workholding system offers users the option of converting the basic chuck for OD, ID and 3-jaw clamping operations with a change-over time of 2 minutes or less. Equally important, in each mode, the chuck delivers proven performance and high repeatability, according to the company.
According to James F. Woods, HAINBUCH America president: "The SPANNTOP nova is designed to deliver superior OD workholding by incorporating the highest-quality materials and precision components in a rugged yet balanced package, with clamping-head changeover in 10 seconds or less. ID capability is enhanced by clamping sleeves that provide the ideal holding pressure while cushioning the workpiece to avoid damage. The jaw module can be used for both conventional and larger size parts, and accuracy is ensured through engagement of 80 percent of the part diameter."
The versatility of HAINBUCH chucks has resulted in wide acceptance among a customer base, including conventional machine shops, specialty gear manufacturers, medical appliance producers and others.
James Woods comments, "Our 'Today—Tonight—Tomorrow' philosophy is more than a reference to the multiple applications of our products. We understand that the critical parts and processes that engage our customers require the highest level of support, and manufacturers who choose HAINBUCH—whether job shops or major OEMs—know from experience that we will be there for them today, tonight and tomorrow."
Related Glossary Terms
chuck


chuck

Workholding device that affixes to a mill, lathe or drill-press spindle. It holds a tool or workpiece by one end, allowing it to be rotated. May also be fitted to the machine table to hold a workpiece. Two or more adjustable jaws actually hold the tool or part. May be actuated manually, pneumatically, hydraulically or electrically. See collet.

inner diameter ( ID)


inner diameter ( ID)

Dimension that defines the inside diameter of a cavity or hole. See OD, outer diameter.

outer diameter ( OD)


outer diameter ( OD)

Dimension that defines the exterior diameter of a cylindrical or round part. See ID, inner diameter.