March 01, 2014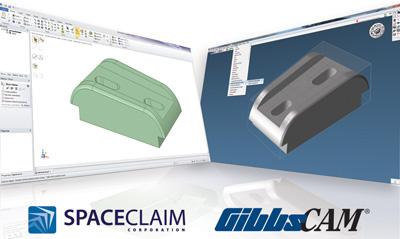 Gibbs and Associates announced that a new add-in from SpaceClaim Corp., a provider of flexible and affordable 3D modeling software for engineers, is available for GibbsCAM. The GibbsCAM-SpaceClaim add-in installs dynamic-link libraries (DLLs) that enable the simple file transfer between the two products, and it is available, free of charge, for both 32-bit and 64-bit versions of GibbsCAM.
Once installed, the add-in appears in GibbsCAM's plug-ins drop-down menu, and allows users to import 3D models from SpaceClaim for machining, and to export part models to SpaceClaim for modification or for use in modeling workholding devices with its easy-to-use modeling software. The SpaceClaim-GibbsCAM add-in is available at SpaceClaim's add-in page, together with installation instructions.
"We are pleased to have SpaceClaim as a partner in providing powerful, yet easy-to-use design-through-manufacturing solutions for our customers," said Robb Weinstein, Senior Vice President of Sales and Strategic Planning of Gibbs and Associates. "GibbsCAM users are accustomed to moving between design, CNC programming and toolpath verification functions with a single mouse click, so this add-in makes access to SpaceClaim Engineer consistent with our interface, simplifying interoperability for our joint users."
Related Glossary Terms
computer numerical control ( CNC)


computer numerical control ( CNC)

Microprocessor-based controller dedicated to a machine tool that permits the creation or modification of parts. Programmed numerical control activates the machine's servos and spindle drives and controls the various machining operations. See DNC, direct numerical control; NC, numerical control.

toolpath( cutter path)


toolpath( cutter path)

2-D or 3-D path generated by program code or a CAM system and followed by tool when machining a part.