February 09, 2023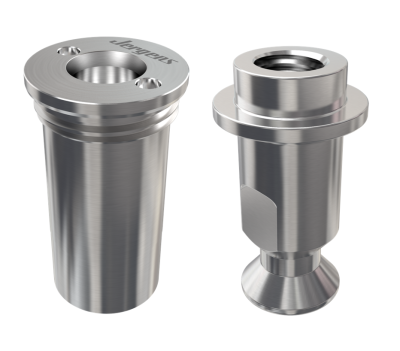 Jergens now offers two new ZPS installation choices for compact, light duty applications. SP140 and K02 pull studs utilize pneumatics and a mechanical spring in a small package. Together they offer quick-change solutions for vise or gripper jaws, electronic component manufacturing, packaging machines, medical technology, and automation.
SP140, the smallest clamping module on the market, features a threaded body for low profile installation. No external fasteners or clamps are needed for securing in a plate. This allows for flexible mounting options along with the fact that pneumatic pressure can be supplied manifold style through the subplate or through external lines ported into the bottom of the module. The pull studs are offered in Zero Point, timing, and clearance configurations, similar to larger ZPS systems.
SP140 and K02 are part of the vast ZPS offering which uses either pneumatic or hydraulic modules to fix, position, and clamp all in one step. Additionally, ZPS ensures repeatability of up to 0.0002", and reduces cycle times by up to 90%. Users quickly and accurately locate and clamp vises or fixtures, or if preferred, attach retention studs to workpieces and then direct mount components for machining or welding, avoiding potential interference from jaws or clamps.
Related Glossary Terms
clearance


clearance

Space provided behind a tool's land or relief to prevent rubbing and subsequent premature deterioration of the tool. See land; relief.