February 21, 2020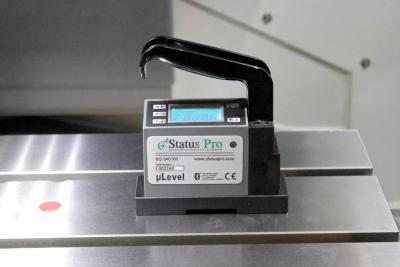 Simplify the process of installing, moving and realigning CNC machine tools with SP ProTwist by Status Pro, offered exclusively in North America by CENTRIC International. This highly precise and easy to use system is an essential part of any quality management process, offering precision measurements down to 1 μm (0.2 arcsec).

Consisting of two μLevel Spirit Levels, this system works using Bluetooth technology to communicate to the Android-based Smartphone or to a Windows-based PC to ensure fast and efficient measurement of straightness and parallelism. It can also provide simultaneous measurement of pitch and roll, as well as differential measurement.

This system can be used as a stand-alone instrument or in conjunction with the company's advanced software that guides users through each step and then documents the results. You can use each μLevel independently or use them together whereby one unit serves as a continuous reference.

The Smartphone includes a Corning Gorilla Glass touchscreen for rugged and scratch-resistance performance. It can be used with or without a SIM card.

The SP ProTwist system comes with Proline Software for linear guide alignment. This software allows for professional analysis and evaluation, producing easy-to-read graphics that can be output at the touch of a button in PDF format. Reports can also be easily exported in .csv format for more detailed analysis.

When used in combination with a laser distance meter (D140), the system works fully automatically. Just start the measurement and stop at a certain position. The values are captured and the 3D chart is updated with every new measurement.
Related Glossary Terms
computer numerical control ( CNC)


computer numerical control ( CNC)

Microprocessor-based controller dedicated to a machine tool that permits the creation or modification of parts. Programmed numerical control activates the machine's servos and spindle drives and controls the various machining operations. See DNC, direct numerical control; NC, numerical control.

pitch


pitch

1. On a saw blade, the number of teeth per inch. 2. In threading, the number of threads per inch.