March 09, 2020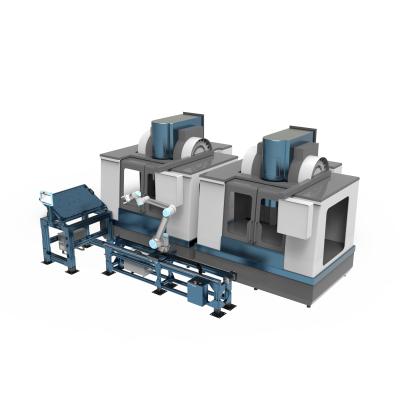 Twenty proven software and hardware kits for the most popular cobot applications are available on the UR+ platform, a large and comprehensive ecosystem of products certified to integrate seamlessly with cobots from Universal Robots. By reducing recurring engineering decisions for common applications, the "plug and produce" kits decrease project risk and complexity and are ready for fast implementation for tasks such as finishing, inspection, assembly, machine tending, material removal, dispensing and material handling.
"As the world's leader in collaborative robots, Universal Robots is pleased to extend our award-winning UR+ ecosystem to include certified cobot applications," said Jim Lawton, vice president of product and applications management at Universal Robots. "It's a new arena where customers no longer have to select and specify cobot peripherals piecemeal, but instead get a kit with most of the needed components for their desired application. The results are faster deployment and faster payback."
The expanded UR+ ecosystem now features two different categories: components and application kits. The kits are developed by industry-leading UR+ partners with in-depth application knowledge that eliminates the duplication of engineering efforts when deploying widely used applications.
The new application kit category launching on the UR+ platform features a total of 20 kits with many more to come. Some kits are globally available while others are available in specific regions or countries. The kits all come with "URCap" software that enables users to control all peripherals directly from the UR cobot's own teach pendant in a rich 3D user interface.

An example is Robotiq's finishing kits now compatible with over 20 pneumatic and electrical orbital tools from leading, worldwide brands. The kit allows manufacturers with polishing or sanding processes to utilize the kit's built-in path generator to ensure consistent applied force in each cycle, increasing quality and productivity while reducing programming time from hours to minutes.
Many of the new application kits, such as the Spatz - Stöger Pick&Place screwdriving kit, consists of several different UR+ certified components controlled through a single URCap. The Spatz - Stöger kit integrates seven UR+ components providing automatic tool change and feed unit of fasteners through a Pick&Place system.
Recent years have seen an emergence of welding applications for cobots reflected in numerous welding kits now launching in the new UR+ application kit category. Available in North America is the new Vectis cobot welder application kit that comes with all hardware provided fully integrated onto a mobile modular fixturing cart, commonly 25% to 40% less expensive than the all-in cost of a small traditional robot welder. The cobot welder allows manufacturers to set weave parameters for cleanly tied-in welds with a weld template library that provides parameter starting points for common weld sizes.
Launching in Europe is the ROBiPAK welding kit, that provides a perfect symbiosis of Abicor Binzel's welding equipment and UR cobot technology for MIG/MAG welding. The "ready-to-weld" URCap controls all hardware including the air- or liquid-cooled welding torch system designed for quick installation on UR cobots.
"As the UR+ ecosystem has evolved, Universal Robots has listened to our customers' feedback as to what would make implementation of cobots even easier," Lawton said. "With more than 200 certified products and 400+ developers in the program, the UR+ platform has expanded at a rapid pace, providing the most comprehensive component platform for cobots in the industry. The addition of application kits will further strengthen our position as the go-to place for fast and straight-forward deployment."
All application kits are featured on the new expanded UR+ site at urrobots.com/applications.
Related Glossary Terms
feed


feed

Rate of change of position of the tool as a whole, relative to the workpiece while cutting.

modular fixturing


modular fixturing

System in which fixtures are constructed from standardized, reusable components. Fixtures are assembled and disassembled quickly. Basic styles are subplate, dowel-pin and T-slot. See fixture; modular tooling.

polishing


polishing

Abrasive process that improves surface finish and blends contours. Abrasive particles attached to a flexible backing abrade the workpiece.