September 13,2013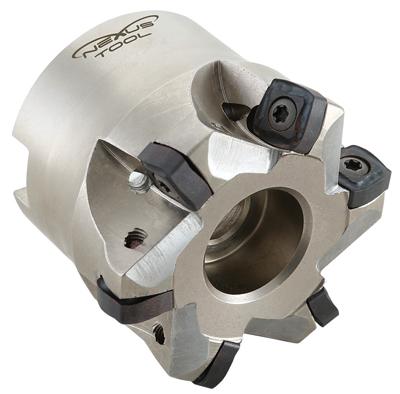 Nexus Cutting Tools introduces its SNKX high-feed insert. Optimized for high-feed milling, the new SNKX geometry is a high-feed square insert. Featuring eight corners with helical geometry, its size and unique design delivers more cutting edges per insert, thus dramatically increasing productivity, according to the company.
The SNKX insert is manufactured with proprietary sub-micro grain carbide and advanced PVD coating technology, which is up to five times thicker than most PVD coatings. This allows for machining of multiple materials and ensuring excellent tool life.
The specific advantages of the new Nexus high-feed milling cutters are high material-removal rates along with eight economical cutting edges. Applications include facemilling, copy milling, plunge milling and roughing operations on pockets and 3-D surfaces.
The new Nexus cutters are available in standard Weldon shank endmills and standard facemills. The new high feed cutters are also available in the patented Power-Loc endmills and the patented Shrink-Mill design for zero runout.