September 20, 2017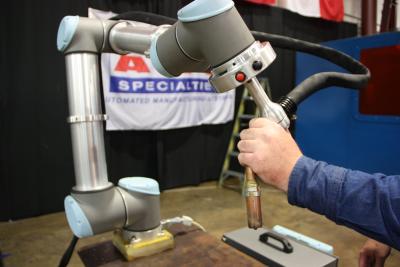 Small job shops struggling with the budget, programming and space requirements of traditional welding robots now have an alternative solution: The new SnapWeld Collaborative Robot Welding package developed by ARC Specialties Inc. and Universal Robots is a cobot-assisted, interactive welding system that can be deployed easily and flexibly in existing, manual welding booths, eliminating the need for costly new robotic cells.
"We are getting a lot of requests for integrating Universal Robots in welding booths, so we saw this as a unique opportunity to develop an integrated low-cost system for gas metal arc welding (GMAW) applications that no one else in the market is currently offering," says John Martin, vice president of ARC Specialties, a Certified Systems Integrator of UR robots.
The welding system integrated with the UR robot is comprised of a Profax wire feeder and water cooled torch enabling welds up to 600 amps, with torch bracket, all cables and hose packages included. The simplified programming is enabled by direct software integration into Universal Robots' own programming environment through the Universal Robots+ platform that will allow users to program advanced settings directly on the teach pendant that comes with the UR robot. Settings include features such as wire feed speed and burn back time, gas flow time, and crater fill time with instant feedback on welding volts and amps.
Related Glossary Terms
feed


feed

Rate of change of position of the tool as a whole, relative to the workpiece while cutting.

sawing machine ( saw)


sawing machine ( saw)

Machine designed to use a serrated-tooth blade to cut metal or other material. Comes in a wide variety of styles but takes one of four basic forms: hacksaw (a simple, rugged machine that uses a reciprocating motion to part metal or other material); cold or circular saw (powers a circular blade that cuts structural materials); bandsaw (runs an endless band; the two basic types are cutoff and contour band machines, which cut intricate contours and shapes); and abrasive cutoff saw (similar in appearance to the cold saw, but uses an abrasive disc that rotates at high speeds rather than a blade with serrated teeth).