October 01, 2022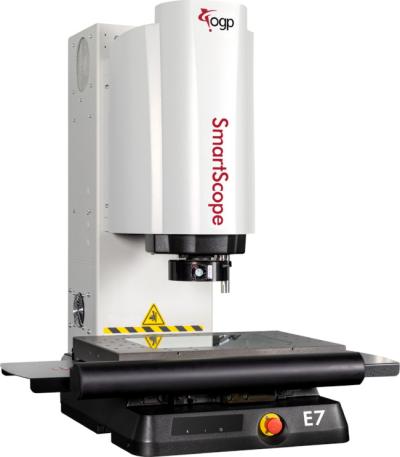 Optical Gaging Products (OGP®), a world-leading manufacturer of optical and precision multisensor metrology systems for industrial quality control, is proud to announce the addition of SmartScope E7, the first in the all-new SmartScope E-Series family of 3D Multisensor Measurement Systems.
OGP has reimagined the trusted SmartScope system to be accessible for all skill levels and budgets. SmartScope E7 features the brand-new fixed lens IntelliCentric optical system, a fully telecentric optical system that provides a super high-resolution image perfect for video edge detection. The digital zoom allows for instantaneous magnification changes, while the standard all-LED lighting system provides illumination from all angles.
Colby Finn, Vice President, QVI Marketing says, "The combination of an innovative optical design, advanced camera technology, and proprietary OGP image processing allows SmartScope E7 to have the same feature size range as other mechanical zoom optical systems, but with no moving parts. The engineering behind this machine has produced significantly better optical performance at low zoom, with better image quality, telecentricity, and distortion free imaging."
Related Glossary Terms
metrology


metrology

Science of measurement; the principles on which precision machining, quality control and inspection are based. See precision machining, measurement.

quality assurance ( quality control)


quality assurance ( quality control)

Terms denoting a formal program for monitoring product quality. The denotations are the same, but QC typically connotes a more traditional postmachining inspection system, while QA implies a more comprehensive approach, with emphasis on "total quality," broad quality principles, statistical process control and other statistical methods.