August 13,2013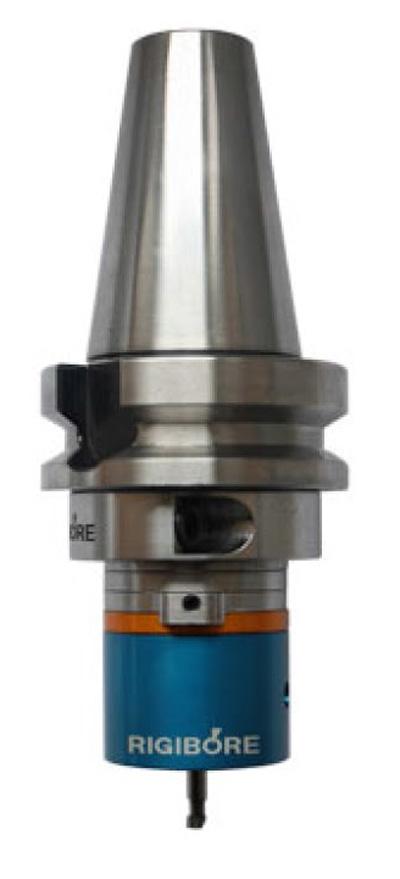 Rigibore announced that it is entering the small-hole boring market. Rigibore has, for a number of years, been able to offer a patented solution for accurately adjusting boring bars at the spindle to within aµm. However, until the release of Smartbore Nano, the minimum bore size has been restricted to a diameter of 16mm.
Rigibore has now released a boring head with capability of boring holes down to 0.26mm in diameter utilizing the existing Smartbore Adjusters already available in the market.
Although there is fierce competition in the small-hole boring market, Rigibore Smartbore Nano has some distinct mechanical and technological benefits over the competition.
The Smartbore Nano doesn't require clamping. In the normal process an operator attempting to accurately bore a small hole will set the boring bar on a presetter. This usually involves unclamping the boring head, making fine adjustments and then clamping it back up. It is a well known problem that clamping boring heads can cause them to move.
Uniquely, the Rigibore boring head does not require any clamping. Once the fine adjustment is made it's ready to cut. It can be easily adjusted in the spindle of the machine using the Smartbore Adjuster. The sensitive Electronics and Batteries are kept out of the machine envelope.
The technology behind the Rigibore Smartbore Adjuster has been established in the market for more than 7 years. While there is a measurement device inside the boring head, power is only supplied to this device when the Smartbore Adjuster is connected. This means that the electronics in the boring head are 100 percent coolant proof. The intelligent measurement system is calibrated to a tenth of aµm. Actual movement of the tip is transmitted to an easy to read screen on the Smartbore Adjuster.
The Smartbore Nano offers the possibility for customers to increase quality and to reduce time and cost in small hole boring.