November 13,2012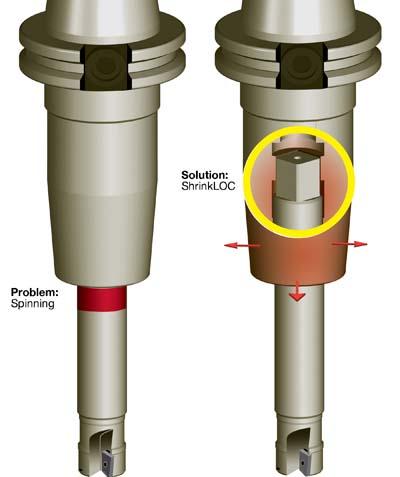 Nexus Cutting Tools, a new product line from Techniks Inc., offers its patented ShrinkLOC system. This innovative system is built around the patented PowerLOC indexable end mill with a square shank end. This end mill locks into the square fitting in a Techniks ShrinkLOC tool holder. Nexus' ShrinkLOC holders eliminate tool slippage, a major concern when manufacturing high-value parts.
Mike Raper, National Sales Manager states, "The 20-year old problem of spinning the shank under heavy load conditions is now solved with the simple ShrinkLOC square drive patent. The tool shank and the tool holder are locked together making it impossible for the tool to spin, even under the heaviest loads."
The ShrinkLOC System is backed by Techniks' 100 percent performance guarantee.
Related Glossary Terms
milling machine ( mill)


milling machine ( mill)

Runs endmills and arbor-mounted milling cutters. Features include a head with a spindle that drives the cutters; a column, knee and table that provide motion in the three Cartesian axes; and a base that supports the components and houses the cutting-fluid pump and reservoir. The work is mounted on the table and fed into the rotating cutter or endmill to accomplish the milling steps; vertical milling machines also feed endmills into the work by means of a spindle-mounted quill. Models range from small manual machines to big bed-type and duplex mills. All take one of three basic forms: vertical, horizontal or convertible horizontal/vertical. Vertical machines may be knee-type (the table is mounted on a knee that can be elevated) or bed-type (the table is securely supported and only moves horizontally). In general, horizontal machines are bigger and more powerful, while vertical machines are lighter but more versatile and easier to set up and operate.

shank


shank

Main body of a tool; the portion of a drill or similar end-held tool that fits into a collet, chuck or similar mounting device.