September 01, 2010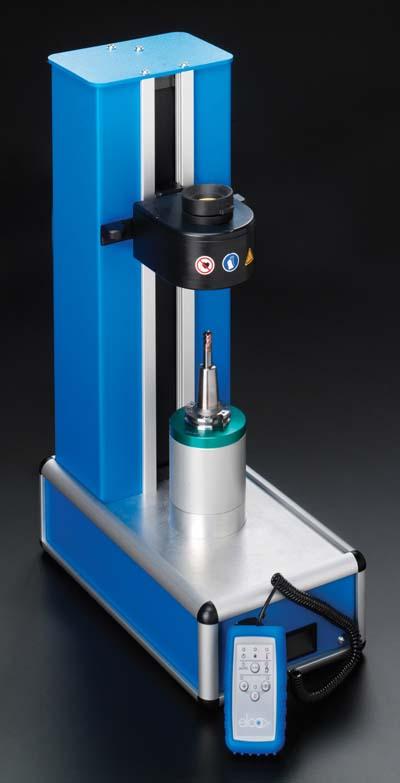 Shrinking and unshrinking tool holders is exceptionally efficient and easy with Lyndex-Nikken Inc.'s latest Shrink Fit Machine, according to the company. In as little as 2 seconds, the machine can firmly insert a cutting tool into a Shrink Fit Holder. With its patented induction coil, the shrink fit machine can handle cutter bodies made from HSS, heavy metals and carbide. The additional benefit of the automatic cutter size detection function eliminates the need for inputting the size of the cutter shank, thus reducing set up time. The machine is compatible with all holders with varying geometries, shrinking 2 — 40mm with the same inductor. Designed to be Plug-and-go, the Shrink Fit Machine is equipped with a 3-phase 220V power connector for shop compatibility. The compact table top design and the machine's shrinking range (14.57" shrinks .080" to 1.5") make this shrink fit unit a versatile yet powerful tool for shrink fit needs. Ideal for use with the Shrink Fit Machine, Lyndex-Nikken offers a complete line of Shrink Fit Holders, including CAT40, CAT50, HSK32E, HSK63A, HSK80F, BT30, 40 and 50. They are available in multiple lengths, and in both inch and metric sizes. Lyndex-Nikken Shrink Fit Holders offer optimal balance and maximum grip characteristics. They are made in Japan with the H13 Heat Resistant Hot Working Tool Steel, and pre-balanced and balanceable up to 40,000 RPM.
Related Glossary Terms
high-speed steels ( HSS)


high-speed steels ( HSS)

Available in two major types: tungsten high-speed steels (designated by letter T having tungsten as the principal alloying element) and molybdenum high-speed steels (designated by letter M having molybdenum as the principal alloying element). The type T high-speed steels containing cobalt have higher wear resistance and greater red (hot) hardness, withstanding cutting temperature up to 1,100º F (590º C). The type T steels are used to fabricate metalcutting tools (milling cutters, drills, reamers and taps), woodworking tools, various types of punches and dies, ball and roller bearings. The type M steels are used for cutting tools and various types of dies.

shank


shank

Main body of a tool; the portion of a drill or similar end-held tool that fits into a collet, chuck or similar mounting device.