September 19,2018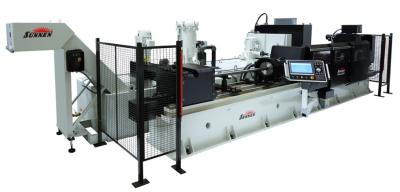 Sunnen Products Co. has applied its bore sizing and finishing expertise to the high-production skiving and roller burnishing process. The result is the new SHD skiving/roller burnishing system that is 60 to 70 percent faster than traditional honing and engineered to deliver precise tolerances and quality surface finishes.
Sunnen partnered with Prince Manufacturing on the development and testing of the SHD system in their Lewis and Clark Hydraulics facility, ensuring it met all of the critical needs of the market, from the overall machine layout to the details on the control screens. Prince is one of the industry's premier manufacturers of hydraulic valves, pumps, cylinders and accessories, with five plants in the U.S.
The skiving and roller burnishing process may be used for a variety of part types and materials, and it is especially suitable for high production hydraulic cylinder applications. Available in two standard models – the SHD 2400 for part lengths up to 2 meters and the SHD-4400 for part lengths up to 4 meters – the system is designed to finish the inside of diameter of workpieces in a single pass.
"Only Sunnen offers both honing and skiving/roller burnishing solutions, so we're able to provide completely objective consultation on the most cost-effective bore finishing process for each specific bore sizing application," said Phil Hanna, Sunnen product manager. "The SHD systems are easy to setup and use, providing superior finishes and dramatically reduced cycle times. Plus, we offer the complete solution with machines, tools, coolant systems, cutting fluids and chip management, all designed to work together."
The SHD is powered by a 57 kw (76 hp) Baldor spindle motor with ABB inverter drive for optimum power, and heavy-duty 55 mm (2.16 in) linear rails for maximum durability. Beckhoff servo driven 80 mm (3.15 in) heavy-duty ball screws handle tool feeding and part clamping. An automatic chip removal system eliminates waste from the skiving/roller burnishing process, and a heavy-duty tool-drive shaft vibration dampener ensures smooth operation.
Sunnen skiving/roller burnishing tooling accommodates bore diameters from 51 mm to 178 mm (2.0 in to 7.0 in.), and a full range of individual or combined skiving/roller burnishing tool assemblies are available for use on non-Sunnen machines. Sunnen's SCO-885 cutting oil provides optimal lubricity and chip flushing for long tool life and outstanding surface finish. The SHD is backed by Sunnen's 3-year warranty.
Related Glossary Terms
burnishing


burnishing

Finishing method by means of compressing or cold-working the workpiece surface with carbide rollers called burnishing rolls or burnishers.

coolant


coolant

Fluid that reduces temperature buildup at the tool/workpiece interface during machining. Normally takes the form of a liquid such as soluble or chemical mixtures (semisynthetic, synthetic) but can be pressurized air or other gas. Because of water's ability to absorb great quantities of heat, it is widely used as a coolant and vehicle for various cutting compounds, with the water-to-compound ratio varying with the machining task. See cutting fluid; semisynthetic cutting fluid; soluble-oil cutting fluid; synthetic cutting fluid.

lubricity


lubricity

Measure of the relative efficiency with which a cutting fluid or lubricant reduces friction between surfaces.