July 09,2018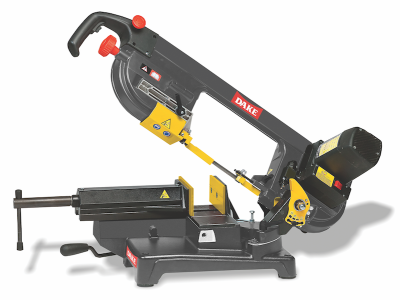 Dake Corp. announces the addition of two new benchtop horizontal bandsaws to its horizontal bandsaw product line. The semiautomatic SE 5X6 RCT model (pictured) comes fully loaded with gravity down feed and Reverse Cutting Technology (RCT), while the SE 5X8 is manual feed with a 2-speed motor.
Designed for on-the-go applications, these two saws cut all of the metal rounds, flats and tubes necessary—right in the field. With two handles on each base, they can easily be set on a cart and wheeled onto the production floor or placed in the back of a truck for cutting up to 6-inch rounds on a worksite.
Both benchtop horizontal bandsaws are small in size, but not in power and come complete with miter capabilities, blade tension indicator, and cut speeds and feed guide. They provide clean, accurate cuts and offer the benefits of a large-capacity saw with the portability needed for cutting in the field or in small spaces.
According to Simon Maldonado, Dake national sales manager, the new semiautomatic SE 5X6 RCT offers RCT, which is a unique feature not found in other horizontal bandsaws: "While other bandsaws run counterclockwise, the SE 5X6 RCT runs clockwise, offering cooler cutting and faster, cleaner cuts. This extends the life of the blade, and the clockwise motion throws chips away from the material and the saw, which provides a desirable fine finish."
Other key features of the SE 5X6 RCT model include:
Gravity downfeed for hands-free cutting
Cuts up to 60 percent faster than other bandsaws, depending on material
Single phase 110v
Powerful 2.5-hp motor
Constant speed regulator - adjusts speed according to amount of torque needed
Variable speeds with 114 to 262 feet per minute
Miters up to 45 degrees
Blade tension indicator with clutch for proper blade tensioning every time
Quick release vise for fast set up and changeover
Related Glossary Terms
bandsaw


bandsaw

Machine that utilizes an endless band, normally with serrated teeth, for cutoff or contour sawing. See saw, sawing machine.

feed


feed

Rate of change of position of the tool as a whole, relative to the workpiece while cutting.

sawing machine ( saw)


sawing machine ( saw)

Machine designed to use a serrated-tooth blade to cut metal or other material. Comes in a wide variety of styles but takes one of four basic forms: hacksaw (a simple, rugged machine that uses a reciprocating motion to part metal or other material); cold or circular saw (powers a circular blade that cuts structural materials); bandsaw (runs an endless band; the two basic types are cutoff and contour band machines, which cut intricate contours and shapes); and abrasive cutoff saw (similar in appearance to the cold saw, but uses an abrasive disc that rotates at high speeds rather than a blade with serrated teeth).