January 01, 2014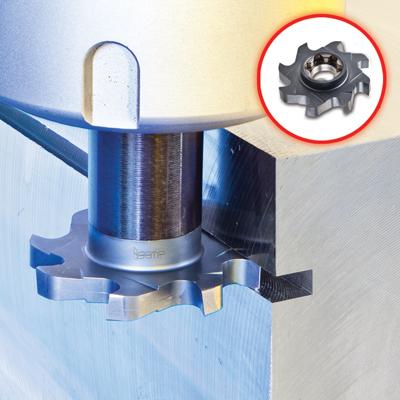 ISCAR is introducing the SD-SP15, a new family of narrow slotting and groove milling cutters, featuring 1.25" diameter milling heads with 8 teeth in a width range of .125" — .250" for maximum depth of cut up to .315".
The new cutters consist of interchangeable solid carbide T-slot milling heads and cylindrical steel shanks assembled by means of a unique spline connection. Also available is an adapter with the SP spline connection on one side and T12 MULTI-MASTER threaded connection on the other side, which enables using all T12 standard MULTI-MASTER shanks.
The spline connection is used to transmit the torque in the best way. It ensures very durable assembly to withstand considerable cutting forces during slot milling and bending forces caused by long reach overhang. The spline connection designation is SP15, where "15" indicates the connection size.
The general-duty cutting geometry of the heads is suited for efficient slot milling on a wide spectrum of workpiece materials. The cutter heads feature an SP15 internal spline mounted on a matching external spline on the shank secured by a central screw.
The new heads are made from the versatile IC908 grade and they are based on the successful cutting geometry of themm-TS MULTI-MASTER heads.
Additional Products from Iscar USA