August 26, 2021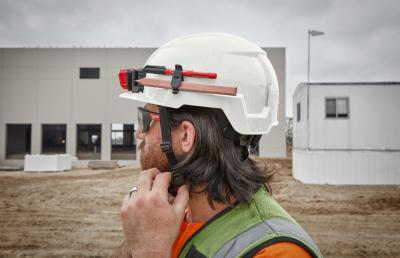 Milwaukee Tool adds to their Personal Protective Equipment lineup with the highly anticipated introduction of Milwaukee® Safety Helmets available in Front Brim and No Brim styles, and in Vented (Class C) and Unvented (Class E) options. The new Helmets provide better protection and more comfort than other options currently available.
"With more than half of fatal work-related traumatic injuries resulting in falls, workers are becoming more aware of the dangers of slips, trips, and falls. For that reason, there is a growing trend in helmet adoption by general contractors and sub-contractors because helmets offer side protection whereas traditional hard hats only include the top of head protection," said Zach Richman, Group Product Manager for Milwaukee Tool. "Unfortunately, some helmets on the market today often sacrifice safety for comfort and style (and vice versa). With our new Safety Helmets, you don't need to make that trade-off, as they provide a high level of both safety and comfort."
The Milwaukee® Safety Helmets are designed to give users better protection by offering protection from both top and side impacts. The helmets are BOLT™ compatible with four BOLT™ accessory slots and two universal accessory slots, allowing users to adapt to their jobsite and easily attach additional personal protective equipment and accessories. Additionally, the helmets include a BOLT™ Headlamp Mount that is suitable for most headlamps and a BOLT™ Marker clip so users can attach and easily access pens, pencils, and markers.
Each helmet is constructed with a comfortable padded suspension that includes an adjustable swinging ratchet for quick adjustment and better comfort. The climbing style helmet also has a comfortable fitting, adjustable buckle chin strap for security.
The new helmet is designed with an anti-microbial sweatband and helmet liner that prevents odor and bacteria build up and can be removed to be machine washed.
The safety helmets are ANSI type 2 and meet energy absorption capacity clauses 4.2.1.2 (front), 4.2.1.3 (side), and 4.3.1.4 (read), and Retention System clauses 4.3.3 (Strength) and 4.2.4 (Effectiveness) of EN12492:2012. They are offered in 7 colors.
Milwaukee Tool's new Safety Helmets demonstrate the company's focus on creating innovative solutions that won't slow users down, helping them STAY SAFE. STAY PRODUCTIVE™.
Milwaukee® Safety Helmet Lineup – NEW!
White Vented Safety Helmet - Type 2, Class C 48-73-1300
White Safety Helmet - Type 2, Class E 48-73-1301
Yellow Vented Safety Helmet - Type 2, Class C 48-73-1302
Yellow Safety Helmet - Type 2, Class E 48-73-1303
Blue Vented Safety Helmet - Type 2, Class C 48-73-1304
Blue Safety Helmet - Type 2, Class E 48-73-1305
Green Vented Safety Helmet - Type 2, Class C 48-73-1306
Green Safety Helmet - Type 2, Class E 48-73-1307
Red Vented Safety Helmet - Type 2, Class C 48-73-1308
Red Safety Helmet - Type 2, Class E 48-73-1309
Black Vented Safety Helmet - Type 2, Class C 48-73-1310
Black Safety Helmet - Type 2, Class E 48-73-1311
Orange Vented Safety Helmet - Type 2, Class C 48-73-1312
Orange Safety Helmet - Type 2, Class E 48-73-1313
White Front Brim Vented Safety Helmet - Type 2, Class C 48-73-1320
White Front Brim Safety Helmet - Type 2, Class E 48-73-1321
Yellow Front Brim Vented Safety Helmet - Type 2, Class C 48-73-1322
Yellow Front Brim Safety Helmet - Type 2, Class E 48-73-1323
Blue Front Brim Vented Safety Helmet - Type 2, Class C 48-73-1324
Blue Front Brim Safety Helmet - Type 2, Class E 48-73-1325
Green Front Brim Vented Safety Helmet - Type 2, Class C 48-73-1326
Green Front Brim Safety Helmet - Type 2, Class E 48-73-1327
Red Front Brim Vented Safety Helmet - Type 2, Class C 48-73-1328
Red Front Brim Safety Helmet - Type 2, Class E 48-73-1329
Black Front Brim Vented Safety Helmet - Type 2, Class C 48-73-1330
Black Front Brim Safety Helmet - Type 2, Class E 48-73-1331
Orange Front Brim Vented Safety Helmet - Type 2, Class C 48-73-1332
Orange Front Brim Safety Helmet - Type 2, Class E 48-73-1333