April 14,2016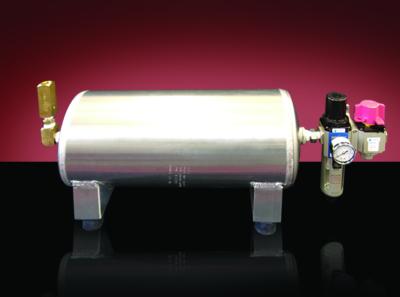 Northfield Precision Instrument Corp. introduces its new safety air reservoir tank. Its purpose is to feed an air chuck with a reserved air supply should you encounter a loss of shop air. This system can keep a chuck in the clamped position for up to 20 minutes, depending on conditions.
The system includes a check valve, a filter-regulator unit, and a 3-gallon air tank with a safe operating pressure of up to 150 psi; unit is burst tested up to 300 psi.
Related Glossary Terms
chuck


chuck

Workholding device that affixes to a mill, lathe or drill-press spindle. It holds a tool or workpiece by one end, allowing it to be rotated. May also be fitted to the machine table to hold a workpiece. Two or more adjustable jaws actually hold the tool or part. May be actuated manually, pneumatically, hydraulically or electrically. See collet.

feed


feed

Rate of change of position of the tool as a whole, relative to the workpiece while cutting.

shop air


shop air

Pressurized air system that cools the workpiece and tool when machining dry. Also refers to central pneumatic system.