September 01,2011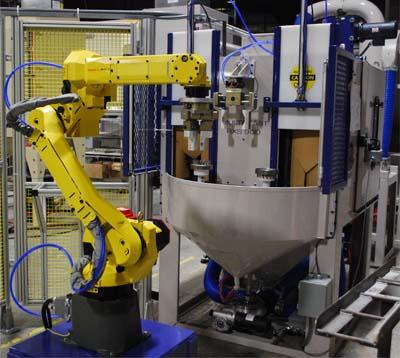 Guyson Corp. has integrated a machine-tending robot to automatically load and unload its RXS-900 rotary spindle blast system in an unmanned blast finishing work cell. The robotic blast machine builder claims the component-manipulating robot and automated spindle-blast system are capable of supporting a faster pace of blast treatment and higher production volume than a human operator could handle.
Based on the size and weight of the components to be processed, the end-of-arm gripper tooling and the range of motion required by the tended machine and the layout of the cell's external material conveying equipment, a Fanuc Robotics Model M-10iA robot with six axes of motion was selected for the application.
To enable 360-degree blasting of both the top and bottom aspects of the cylindrical components, custom component-holding fixtures were designed to positively locate and securely cradle the parts in either face-up or face-down orientation. A three-jaw gripper was chosen for the robot end effector that could grasp the work piece by the inside or outside diameter of the part, and an auxiliary rotary actuator with a pneumatic O.D. gripper was mounted on the front of the blast machine, acting as a precise, high-speed "flipper" to invert the component between finishing of the first and second sides.
The six rotary spindles of the RXS-900 are exactly located around the perimeter of its 42-inch diameter turntable, which is rotated between blast cycles in precise 60-degree steps by a robust cam indexer that offers positional accuracy of +/-39 arc seconds. The blast system manufacturer advises that this level of indexing precision is a critical requirement for robot tended blasting machinery. Inside the finishing enclosure, components are exposed to the timed media blast from a pre-arranged group of suction guns or pressure-blast nozzles at two blasting stations as the satellite spindles are rotated at controlled and adjustable speed. The blast cabinet is provided with a separate chamber for blow-off of residual media and dust before the finished part is delivered to the front unload position.
The zone around the front of the automated blast machine that is occupied by the robot loader is completely surrounded by a sturdy wire mesh barrier with safety interlocks on all doors, windows or access points. Other robot guarding options compliant with ANSI/RIA R15.06 and international robotic safety standards are available at the preference of the individual customer.
Prospective users of automated or robotic blasting equipment are invited to submit sample components for free laboratory testing and application engineering evaluation at the blast machine builder's factory in northeastern New York State.
Related Glossary Terms
computer-aided manufacturing ( CAM)


computer-aided manufacturing ( CAM)

Use of computers to control machining and manufacturing processes.

robotics


robotics

Discipline involving self-actuating and self-operating devices. Robots frequently imitate human capabilities, including the ability to manipulate physical objects while evaluating and reacting appropriately to various stimuli. See industrial robot; robot.