July 31, 2021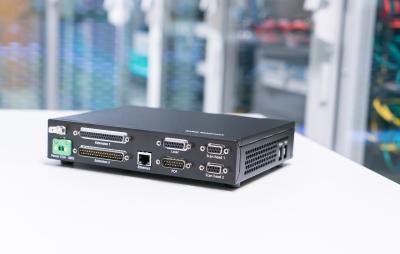 SCANLAB GmbH facilitates the installation of the RTC6 control electronics in laser machines. With the new RTC6 EtherBox, SCANLAB offers the control board in an industrial-grade casing. This means it can be installed in a control cabinet in a few simple steps. All connections, including Ethernet connections, are conveniently arranged on the front of the box. The RTC6 EtherBox can also be used in 'stand-alone operation', for example to execute pre-defined laser jobs without an additional PC.
Standards, standardized components and uniform fastening systems simplify day-to-day operations and the setup of complex machines. With its practical RTC6 EtherBox, SCANLAB has transformed the control electronics of laser machining systems into an easy-to-integrate 'click-in system'. The handy box, with a high-quality, powder-coated aluminum housing, can be attached to a standard DIN rail in a switch cabinet in a matter of seconds. It also has rubber feet for stability when used in a freestanding position.
To guarantee faultless operation around the clock, the RTC6 EtherBox features active air cooling. All electrical connections, such as the scanning head connection (SL2-100), laser control, PC connection via Ethernet, power supply, and analog and digital inputs and outputs, are easily accessible from the outside of the portable housing.
An added benefit for users: Stand-alone operation
There are various use cases and fields of application for this compact box. The RTC6 Ethernet card inside the housing offers 'stand-alone' functionality as standard. This means a pre-programmed laser job can be initiated at any time, for instance via a light barrier or an alternative external signal.
Using the box as a stand-alone control mechanism is particularly beneficial for laser processes with high throughput, low complexity and negligible changes; for example, when cutting displays, for identical laser markings or laser cleaning. The RTC6 Ethernet card works independently and is not linked to a PC, which means cost savings for the system configuration.
Related Glossary Terms
laser machining


laser machining

Intensified, pulsed beams of light generated by lasers—typically carbon dioxide or neodium-doped yttrium aluminum garnet (Nd:YAG)—that drill, weld, engrave, mark, slit and caseharden. Usually under CNC, often at both high cutting rates (100 linear in./sec.) and high power (5kW or more). Lasers also are used in conjunction with in-process quality-control monitoring systems allowing measuring accuracies of 0.00001".