September 26, 2016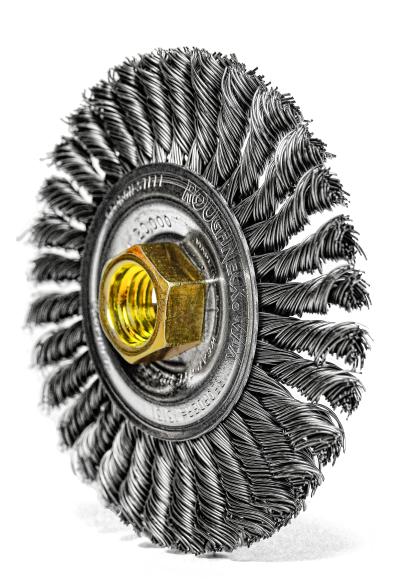 Weiler Abrasives Group has announced the upgrade of its Roughneck and Wolverine 4-inch Stringer Bead wheels. The Stringer Bead wheels have been reengineered to deliver maximum cleaning efficiency and longer life.
The new Roughneck Max are made of proprietary wire that is stronger, sharper and more resistant to breakage, even during aggressive brushing, and they deliver 40 percent more cleaning power than the closest competitor, according to the company. The improved knot design provides up to twice the brush life, helping to lower the overall cost of use. Roughneck Max requires 20 percent less pressure to clean with compared to competitive brushes to help reduce operator fatigue, and allows for smooth and responsive operation.
"Wire loss can be a real problem with power brushes. When a user has to apply excess pressure to get the job done, it leads to long wire breakage and a shorter product life," explains Rick Hopkins, senior product manager, Weiler. "We're excited to introduce the Roughneck Max to address that problem. It gives users the ability to clean twice as fast with minimal pressure (1 1/2 to 2 pounds less). Our customers now have best-in-class cleaning power without having to sacrifice durability or product longevity."
The Wolverine line of Stringer Bead wheels, previously known as Vortec Pro, offer professional grade quality and performance at a cost-effective price. Reengineered with 32 knots, the improved brush design delivers a 20 percent longer life, while maintaining aggressive cleaning power for weld cleaning applications.
The upgraded Roughneck Max and Wolverine Stringer Bead wheels are both available in carbon steel and stainless steel options.
Related Glossary Terms
brushing


brushing

Generic term for a curve whose shape is controlled by a combination of its control points and knots (parameter values). The placement of the control points is controlled by an application-specific combination of order, tangency constraints and curvature requirements. See NURBS, nonuniform rational B-splines.

fatigue


fatigue

Phenomenon leading to fracture under repeated or fluctuating stresses having a maximum value less than the tensile strength of the material. Fatigue fractures are progressive, beginning as minute cracks that grow under the action of the fluctuating stress.