June 14, 2016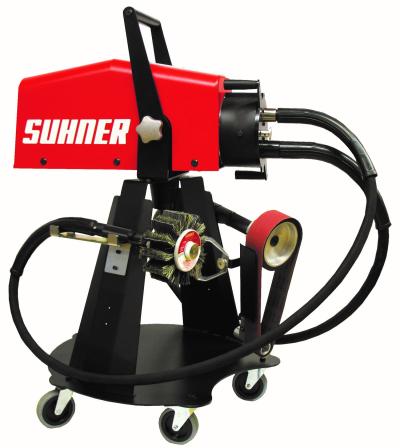 Suhner introduces the Rotomax flexible-shaft machine, a unique unit with interchangeable hand pieces that allow a user the freedom to perform a variety of machining operations with a single machine. The Suhner Rotomax functions as an angle grinder, straight grinder, drum polisher, belt sander, tube polisher or die grinder, simply by changing the hand piece. This new machine has myriad applications in industrial steel fabrication, polishing operations, sheet metal assembly, food processing and foodservice equipment builds, appliance manufacturing, various stainless steel fabrications including medical and more.
The Suhner Rotomax offers users a range of power from 2.0-4.7 hp and features electronically controlled speeds ranging from 500-15,000 rpm in increments of 100 rpm at the touch of a button. The combination of an industrial-grade motor and solid-state electronic control ensure constant speed and torque during any application. With no gearing, the Rotomax operates quietly. Other features include soft start, integrated braking and an LED-displayed speed gauge.
The Rotomax is offered as a hanging model, for the user wishing to keep the power flex shaft above the work; on the basic stand, which can be mounted wherever the user desires; or on a specially designed stable trolley (STM) for portability around the work shop or production line.
Related Glossary Terms
polishing


polishing

Abrasive process that improves surface finish and blends contours. Abrasive particles attached to a flexible backing abrade the workpiece.