August 23, 2021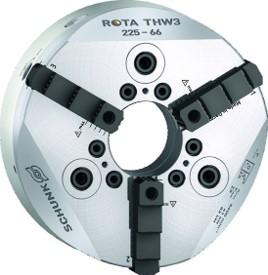 Machine shops everywhere are looking to turn parts more efficiently, lower maintenance time and costs, and experience precision clamping. Now it's possible with the new SCHUNK ROTA THW3.
The ROTA THW3 chuck with quick-change jaws has been completely redesigned to fit into today's modern machine tool technology. Today's machines allow multiple features for today's manufacturing. For example, quick change tooling, large tool storage, multi spindles, and modular machine controls, to name a few. This technology creates a better experience for the customer by allowing for faster throughput, flexibility, and accuracy. The standard chuck that typically come with these machines are not up to the task with today's machine tool technologies and part demands. Available in stock from size 200-630mm.
The latest technology in the THW3 enhances these benefits with developments of its own that result in permanently high process reliability, constant clamping forces and long maintenance intervals. This new engineered technologies in the completely new design includes:
ShieldLok
With ShieldLok, nothing gets in and nothing goes out. Fully sealed, this patented design results in lower lubricant consumption that reduces grease cost, eliminates coolant contamination, and reduces chuck maintenance costs. Less maintenance means less machine downtime and maintenance cost.
EcoForm
The THW3 has a lower profile for less tool interference. Material has been removed from the chuck, which results in a lightened load without impeding integrity. Due to the lighter weight of the THW3, quicker acceleration and deceleration speeds equate to faster cycle times.
PowerGlide
The double-guided piston of the THW3 is more robust and stronger, holding higher tolerance, resulting in the best repeat accuracy for jaw change and part changes in the industry.
VersaFlex
VersaFlex quick jaw change technology is ideal for small to mid-size batch production. The ability to change chuck jaws in minutes with no re-boring of the chuck jaws ensures maximum versatility and flexibility enhancing machine tool technologies. Minimizing the set up time needed with most conventional chucks, the return on investment and continued payback is easy.
Related Glossary Terms
chuck


chuck

Workholding device that affixes to a mill, lathe or drill-press spindle. It holds a tool or workpiece by one end, allowing it to be rotated. May also be fitted to the machine table to hold a workpiece. Two or more adjustable jaws actually hold the tool or part. May be actuated manually, pneumatically, hydraulically or electrically. See collet.

coolant


coolant

Fluid that reduces temperature buildup at the tool/workpiece interface during machining. Normally takes the form of a liquid such as soluble or chemical mixtures (semisynthetic, synthetic) but can be pressurized air or other gas. Because of water's ability to absorb great quantities of heat, it is widely used as a coolant and vehicle for various cutting compounds, with the water-to-compound ratio varying with the machining task. See cutting fluid; semisynthetic cutting fluid; soluble-oil cutting fluid; synthetic cutting fluid.

tolerance


tolerance

Minimum and maximum amount a workpiece dimension is allowed to vary from a set standard and still be acceptable.