November 01, 2014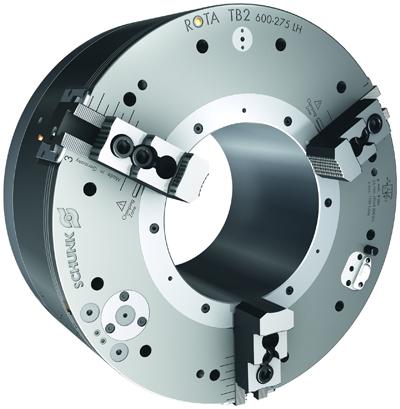 The SCHUNK ROTA TB2 pneumatic self-contained power chuck is for machining rods and pipes for the oil industry, as well as in the mining and construction industries. This innovative power chuck has many features that help to fully utilize the productivity potentials of modern machining centers. It has a large through-hole up to 560mm, with an air pressure of 6 bar, making it possible to achieve clamping forces up to 280 kN, which can easily be adapted to any particular task.
An anticorrosive coating significantly increases the service life of the chuck and the base jaw guidance is equipped with a special seal to prevent penetration of contamination, dust and chips, reducing maintenance costs. An advanced lubrication system ensures constant clamping forces and high process stability and an optional integrated pressure sensor provides maximum process reliability and operational safety in daily use.
To increase the cycle time in the machining of pipes and rods, the ROTA TB2 features a double acting check valve with extra large channel bores, which considerably speeds up the clamping process. After completion of machining, a quick action ventilation system allows for a quick release of the clamping setup. If needed, the extended jaw stroke can be mechanically monitored by a radial stroke indicator on the outer diameter.
The TB2 is available in sizes from 470mm to 1,000mm with bore diameters from 185mm to 560mm.