February 19, 2016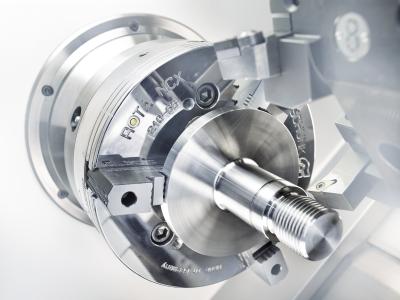 The ROTA NCX, a power lathe chuck from SCHUNK, Morrisville, S.C., features a quick jaw change system and a large through-hole, according to a Feb. 17 announcement from the company. Optimized with reduced-weight, the ROTA NCX is described by the company as an essential upgrade over conventional lathe chucks.
"Upgrading to the ROTA NCX is more straightforward than ever as it fits perfectly on machines that are equipped with short stroke cylinders," the company explained. "It can replace conventional lathe chucks easily, even as easy as using the internal parts of an existing chuck such as the same draw tube adapter, adapter plate and retaining ring. With the ROTA NCX, a jaw set can be changed out with a repeat accuracy of 0.02mm, while decreasing set up time by up to 80 pecent."
Related Glossary Terms
chuck


chuck

Workholding device that affixes to a mill, lathe or drill-press spindle. It holds a tool or workpiece by one end, allowing it to be rotated. May also be fitted to the machine table to hold a workpiece. Two or more adjustable jaws actually hold the tool or part. May be actuated manually, pneumatically, hydraulically or electrically. See collet.

lathe


lathe

Turning machine capable of sawing, milling, grinding, gear-cutting, drilling, reaming, boring, threading, facing, chamfering, grooving, knurling, spinning, parting, necking, taper-cutting, and cam- and eccentric-cutting, as well as step- and straight-turning. Comes in a variety of forms, ranging from manual to semiautomatic to fully automatic, with major types being engine lathes, turning and contouring lathes, turret lathes and numerical-control lathes. The engine lathe consists of a headstock and spindle, tailstock, bed, carriage (complete with apron) and cross slides. Features include gear- (speed) and feed-selector levers, toolpost, compound rest, lead screw and reversing lead screw, threading dial and rapid-traverse lever. Special lathe types include through-the-spindle, camshaft and crankshaft, brake drum and rotor, spinning and gun-barrel machines. Toolroom and bench lathes are used for precision work; the former for tool-and-die work and similar tasks, the latter for small workpieces (instruments, watches), normally without a power feed. Models are typically designated according to their "swing," or the largest-diameter workpiece that can be rotated; bed length, or the distance between centers; and horsepower generated. See turning machine.

through-hole


through-hole

Hole or cavity cut in a solid shape that connects with other holes or extends all the way through the workpiece.